Vicks
Vicks NyQuil Cold & Flu Multi-Symptom Relief Liquid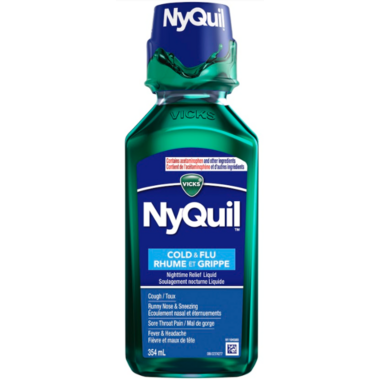 Vicks
Vicks NyQuil Cold & Flu Multi-Symptom Relief Liquid
Description
Try NyQuil Cold & Flu Multi-Symptom Relief—the nighttime sniffling, sneezing, coughing, aching, fever, so you can feel better the next morning medicine.
For Nighttime Relief Of:
Relieves sniffles and sneezing
Calms and quiets coughing
Eases head and body aches
Reduces fever
Relieves minor sore throat pain
Helps you get the restful sleep you need by relieving major cold/flu symptoms
Medicinal Ingredients: (per 30 mL)

Dextromethorphan Hydrobromide 30 mg

Doxylamine Succinate 12.5 mg

Acetaminophen 1000 mg
Non-Medicinal Ingredients: acesulfame potassium, alcohol, citric acid, D&C yellow No. 10, FD&C green No. 3, FD&C yellow No. 6, flavour, high fructose corn syrup, polyethylene glycol, propylene glycol, purified water, saccharin sodium, sodium citrate

Should you require consultation with a pharmacist, you may contact our Well.ca Pharmacist. Please read the label, warnings and inserts provided by the manufacturer and consult your healthcare professional when purchasing medications or natural health products to be sure the product is right for you.
Shipping & Returns
Unfortunately, due to the nature of this item, we cannot accept any returns.
We are only able to ship this item to Canadian customers.
Click here for more information