Vicks
Vicks NyQuil Complete Cold & Flu Liquid Honey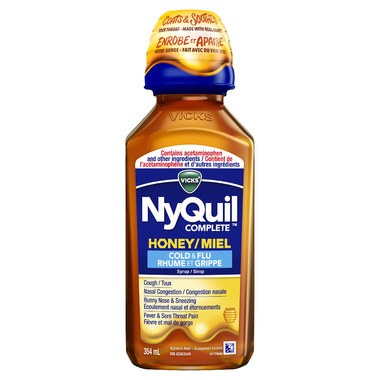 Vicks
Vicks NyQuil Complete Cold & Flu Liquid Honey
Description
Vicks NyQuil COMPLETE Cold & Flu Honey Liquid 354ml
Directions:
Do not take more than directed (see liver warnings). Adults and children 12 yrs and over: Only use the dose cup provided. 30 mL every 4-6 hours as needed. Do not exceed 4 doses in 24 hours. Children under 12 years: do not use.
Caution: Liver warning: Acetaminophen may cause severe or possibly fatal liver damage if you take more: than the recommended dose in 24 hours; with other drugs containing acetaminophen; while drinking 3 or more alcoholic drinks every day. Symptoms of liver damage may include: yellow skin or eyes, dark urine, sweating, nausea, vomiting, stomach pain, unusual tiredness, loss of appetite. Allergy alert: Acetaminophen may cause serious skin reactions. Symptoms may include: skin reddening, blisters, rash. If any of the above noted symptoms occur, stop use and seek medical help right away.Do not use: with other drugs containing acetaminophen, doxylamine succinate or dextromethorphan; if you are allergic to acetaminophen. If you are not sure whether a drug contains acetaminophen, ask a doctor or pharmacist; with a monoamine oxidase inhibitor (MAOI) (drugs for depression or Parkinson's disease) or for 2 weeks after stopping the MAOI drug. Ask a doctor or pharmacist before use if you: have liver, kidney, heart or thyroid disease, high blood pressure, diabetes, glaucoma, chronic lung disease or shortness of breath, a cough with excessive phlegm (mucus), persistent
Should you require consultation with a pharmacist, you may
contact our Well.ca Pharmacist
. Please read the label, warnings and inserts provided by the manufacturer and consult your healthcare professional when purchasing medications or natural health products to be sure the product is right for you.
Features
ALL-IN-ONE COLD & FLU SYMPTOM RELIEF. NyQuil COMPLETE with Honey relieves: nasal congestion and pressure, cough due to minor throat & bronchial irritation, minor aches & pains, headache, fever, sore throat pain, runny nose and sneezing.
COATS AND SOOTHES YOUR THROAT. Get effective multi-symptom relief plus the throat coating action of NyQuil COMPLETE with Honey.
FAST RELIEF SO YOU CAN SLEEP. Don?t let your cold keep you up.
NyQuil COMPLETE with Honey fights your worst cold and flu symptoms so you can rest.
PROVEN RELIEF. Proven cough, cold & flu symptom relief from Vicks - the world?s #1 selling OTC cough and cold brand
Ingredients
Acetaminophen 650 Mg (This Is Not A Standard Dosage Unit) (Pain Reliever, Fever Reducer), Dextromethorphan Hydrobromide 20 Mg (Cough Suppressant), Doxylamine Succinate 12.5 Mg (Antihistamine), Phenylephrine Hydrochloride 10 Mg (Nasal Decongestant) Inactive Ingredients: Citric Acid, D&C Yellow No. 10, FD&C Green No. 3, FD&C Red No. 40, FD&C Yellow No. 6, Flavour Including Honey, Glycerin, Propylene Glycol, Purified Water, Saccharin Sodium, Sodium Benzoate, Sodium Citrate, Sorbitol, Sucralose, Xanthan Gum
Shipping & Returns
Unfortunately, due to the nature of this item, we cannot accept any returns.
We are only able to ship this item to Canadian customers.
This item cannot be shipped to Quebec due to provincial pharmacy regulations.
Click here for more information