Vicks
Vicks VapoRub Ointment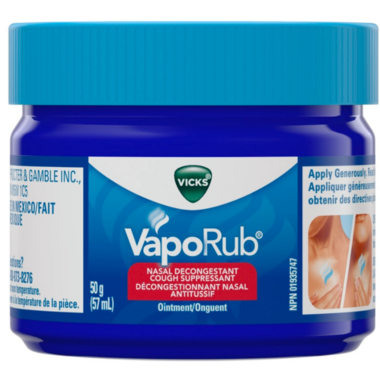 Vicks
Vicks VapoRub Ointment
57 g
Vicks VapoRub Ointment
is rated out of
5
by
12
.
---
Description
Vicks VapoRub ointment is a topical cough medicine with medicated vapours that work quickly to relieve your cough, nasal congestion, and muscle aches and pains due to colds.
Relieves:

On chest and throat, temporarily relieves cough due to common cold
On muscles and joints, temporarily relieves minor aches and pains
Directions:
For Nasal Congestion and Coughs: For maximum relief, rub ointment on 3 places: chest, throat, and back. If desired, cover with a warm cloth, but keep clothing loose.
For Muscular Soreness and Tightness: Apply to affected area. If desired, cover with warm cloth. For children under 2 years, consult a physician. REPEAT UP TO 3-4 TIMES DAILY, ESPECIALLY AT BEDTIME, OR AS DIRECTED BY A PHYSICIAN.
Caution:
Do not heat. Never expose VapoRub to flame, microwave, or place in any container in which you are heating water. Such improper use may cause the mixture to splatter and result in burns.
Ingredients
Active Ingredients (Purpose): Camphor 5.2% (Cough suppressant and topical analgesic) Eucalyptus oil 1.2% (Cough suppressant) Menthol 2.8% (Cough suppressant and topical analgesic) Inactive Ingredients: Carbomer 954, cedarleaf oil, cetyl alcohol, cetyl palmitate, cyclomethicone copolyol, dimethicone copolyol, dimethicone, EDTA, glycerin, imidazolidinyl urea, isopropyl palmitate, methylparaben, nutmeg oil, peg-100 stearate, propylparaben, purified water, sodium hydroxide, stearic acid, stearyl alcohol, thymol, titanium dioxide, turpentine oil
Shipping & Returns
Unfortunately, due to the nature of this item, we cannot accept any returns.
We are only able to ship this item to Canadian customers.
Click here for more information
Rated

5

out of

5
by
Charlene
from
I always put this on the kids feet and cover with socks at bed time when the kids get a bad cough. Works like a charm - the coughing stops and they get some sleep.
Date published: 2014-04-24
Rated

5

out of

5
by
Susan
from
This item is mandatory for when i'm sick. As soon as i get a sore throat or congestion, i put it on my throat and chest. I also love the way it smells.
Date published: 2017-03-14
Rated

4

out of

5
by
Jenna
from
The container is what I would classify as a little bit bigger than travel-sized. It is quite small but it will last one person for a long time.
Date published: 2014-05-06
Rated

5

out of

5
by
patricia
from
came down with a terrible sore throat and nothing like the old stand by Vicks, worked like a charm. Keep it on hand in case....
Date published: 2015-03-04
Rated

4

out of

5
by
B
from
It's a staple
Good product …. You can also put it on a pimple and it helps it go away, did you know ?
Date published: 2021-11-22
Rated

5

out of

5
by
Rick cindy 27
from
Great for stuffy nose
Great product would buy again price was very reasonable
Date published: 2020-08-12
Rated

5

out of

5
by
Joelle
from
This product is a safe value. Vicks has been selling the Vaporub for years, and it's always been a good product to help sooth the bad effects of a cold or flu!
Date published: 2013-01-15
Rated

5

out of

5
by
Baker
from
This is a good product. It's been around for ages and is soothing when rubbed on the chest for night time cold relief. Just don't put in anywhere on the face and it's not for infants.
Date published: 2011-06-06