Vicks
Vicks VapoSteam
Liquid Steam Inhalant 177 mL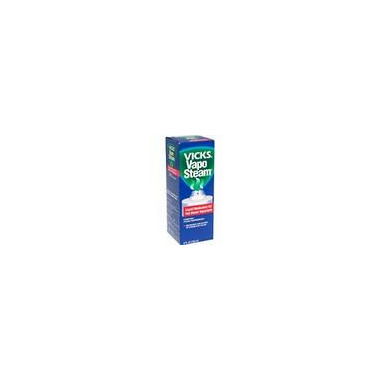 Liquid Steam Inhalant
177 mL
---
Description
For use with all Vaporizers! Vicks VapoSteam provides soothing menthol vapours.

Ingredients
Ecalyptus oil, Peppermint oil, Menthol, Camphor, Methyl Salicylate, Lavender oil, in mineral based oil. Directions: Put 15 ml (one tablespoon) on Vicks VapoSteam Inhalant into the cup of the vaporizer. All ingredients are released with the steam, leaving only the mineral oil base in the cup. Empty this residue and clean the cup with a piece of cotton. Always use fresh VapoSteam. For use with steam vaporizers only. Never put this product into the water chamber of the vaporizer.
Shipping & Returns
Unfortunately, due to the nature of this item, we cannot accept any returns.
We are only able to ship this item to Canadian customers.
Click here for more information