Vim Hardwood Floor Surface Cleaner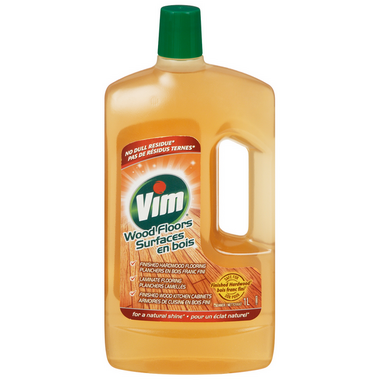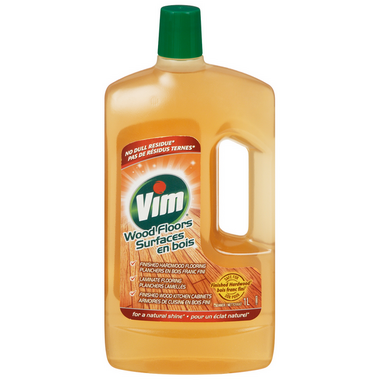 Vim Hardwood Floor Surface Cleaner
You'd do anything to make the home you love beautifully clean for your family. There's a product to help make that dream a reality. It's time to shine with Vim®.
Vim® Wood Floors is specially formulated for finished hardwood floors, laminate floors and finished wood cabinets – a great cleaner for every room. Leaves no dull residue and cleans to a natural shine.

Features:
Formulated for finished hardwood floors, laminate floors, and finished wood cabinets
Leaves no dull residue and cleans to a natural shine
Cleans light grease and other tough dirt
Phosphate free
Instructions for use
: For diluted use, pour 3 capfuls into 5 litres of water, wash and let dry. For full strength, apply for a few seconds and wipe away. To confirm compatibility with your surface, always test first in a small inconspicuous area. Keep in a dry, cool place and store upright.
Provides brilliant results on a variety of surfaces thanks to a formula that makes cleaning everyday dirt easy. Finally get the sparkling floors you've always wanted. With a range of scents to suit every home, say hello to beautiful, shiny floors throughout your home.
How to Clean Washable/Varnished Wood
Wooden floors give your home its warm elegance, but not when they get trampled with dirt. Keep your floors sparkling clean with some help from Vim Wood Floor Cleaner.
Wood is a sensitive surface that stains easily. If you're worried, you should test Vim Wood Floor Cleaner on a small hidden area first to ensure it won't discolour the finish.
Sweep or vacuum the floor surface to remove any grit or dirt.
Following the instructions on the bottle, dilute Vim Hardwood Floor Cleaner in a bucket full of water and mop down the wood thoroughly.
If you are struggling with any stubborn stains, try mopping the mark vigorously with a cap full of undiluted floor cleaner.
Allow the floor to dry naturally. If you've had to use any undiluted floor cleaner, you will need to rinse this area with clean, warm water.
Cleaning wood regularly will help it retain its warm colours and natural patterns, leaving a beautifully clean finish that will never fail to impress.
There's always a beautiful ending® when you start with Vim®

Precautions:
Not recommended for fine or antique wood furniture, unsealed, waxed, painted or polished wood. Avoid use on marble.