Virage Sante Balacta Powder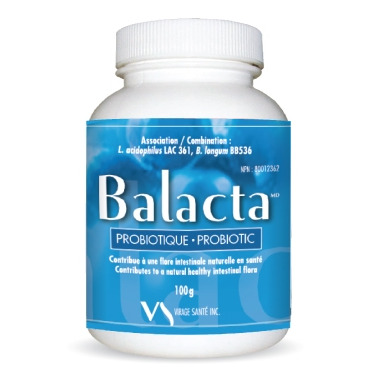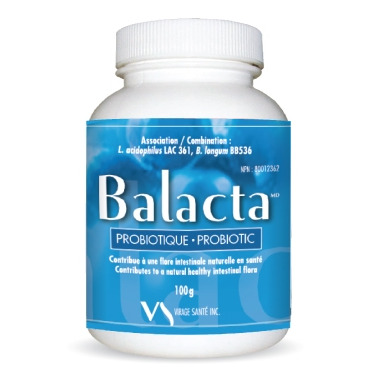 Virage Sante Balacta Powder
Virage Sante Balacta Powder is a stabilized freeze-dried probiotic. It is to be used with antibiotic treatments and improves gastrointestinal comfort.
Medicinal ingredients (per dose):

Bifidobacterium longum

BB536 : 80 billions CFU




Lactobacillus acidophilus

LAC 361 : 420 billions CFU
Non-medicinal ingredient: Maltodextrin (not from GMO corn)
Properties: Highly water-soluble tasteless powder. Strains resistant to stomach acidity and bile. Stable at room temperature for over two years
Dosage (for adults and children 1 year+): Dilute one level teaspoon with a bit of water. Take one to two time daily, as needed or the recommendations of an health care practitioner. Take on an empty stomach.
Indications:
Infectious diarrhea in adults, children and infants

Holiday tummy

Post-irradiation diarrhea

Prevention and treatment of vaginitis

Digestive problems

Sore throats

Oral ulcers
Lactose-free and gluten-free. Suitable for diabetics
Please be advised that Well.ca follows manufacturer guidelines for storing & shipping probiotics.