Visine Seasonal Relief Eye Drops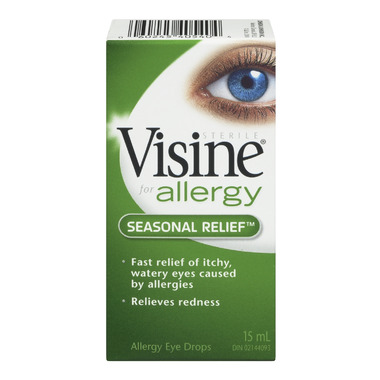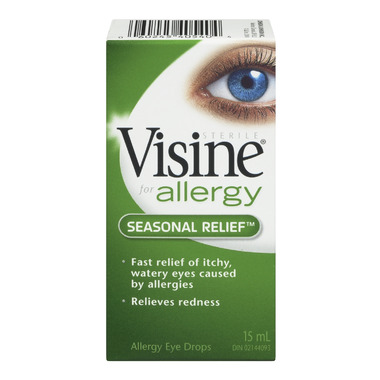 Visine Seasonal Relief Eye Drops
Visine for Allergy Seasonal Relief provides fast relief of itchy, sticky eyes due to allergies while quickly reducing redness.

Symptoms: Red, itchy, watery eyes; mucous build-up.

Possible Causes: Common cold, allergies to pollen, dust and animal dander.

Actions: Zinc sulphate precipitates protein and helps clear mucus from the outer surface of the eye. Decongestant relieves redness.

Directions for use: Place 1 or 2 drops in the affected eye(s) up to 4 times a day or as directed by a doctor. For use in the eyes only.

Medicinal Ingredients: Tetrahydrozoline Hydrochloride 0.05% w/v, Zinc Sulphate 0.25% w/v

Non-Medicinal Ingredients: Benzalkonium Chloride, Boric Acid, Disodium EDTA, Sodium Chloride, Sodium Citrate, Water.

CAUTION: If you experience eye pain, changes in vision or if irritation persists or increases beyond 72 hours, discontinue use and consult a doctor. Do not use if you have glaucoma or serious eye diseases. Overuse of this product may produce increased redness of the eye. Do not use product while wearing contact lenses. If solution changes colour or becomes cloudy, do not use. VISINE® eye drops is produced under sterile conditions. To help maintain sterility, replace cap after use and do not touch dropper to other surfaces. Keep out of reach of children.