Diclofenac diethylamine gel 1.16%
30 g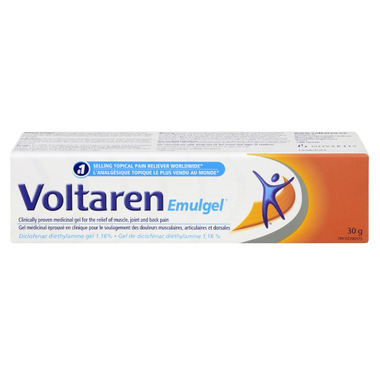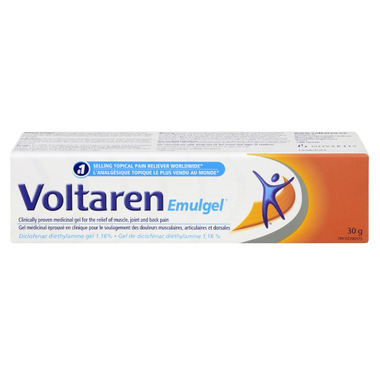 Voltaren Emulgel
Diclofenac diethylamine gel 1.16%
30 g
- We're sorry, this product is no longer available!
- Shop for other products in: Topical Ointments

As we grow older things such as our weight, bad posture (such as sitting in front of the computer for extended periods) and sports activities can result in the "wear and tear" of our joints and ligaments, resulting in these becoming painful and inflamed.

Fortunately there's Voltaren Emulgel which goes to work fast to soothe and reduce inflammation which helps speed up the healing of "pulled" muscles and sprained ligaments. Voltaren Emulgel contains a pain relieving medicine that is available without a prescription. Its mild scent disappears fast as the non-greasy gel quickly penetrates the skin, delivering the medicine to the painful inflamed areas where relief is needed.

Voltaren Emulgel is uniquely developed to provide rapid relief for the following painful, inflammatory conditions:

Back pain
Muscle pains, sprains and strains
Inflammation of joints, back, neck, hands, wrist and feet

There's no reason to let muscular pain hold you back! Just keep a pack of Voltaren Emulgel handy to provide rapid relief against pain and inflammation, wherever and whenever you need it.
Dosage:
For adults and adolescents 16 years of age or over: Apply Voltaren Emulgel to the skin 3 to 4 times a day.
Medicinal Ingredient:
Diclofenac diethylamine gel 1.16%
Non-medicinal Ingredients:
Carbomer, cocoyl caprylocaprate, diethylamine, isopropyl alcohol, liquid paraffin, macrogol cetostearyl ether, perfume, propylene glycol, purified water.