Wampole Adorable Multivitamin Liquid Peach Flavour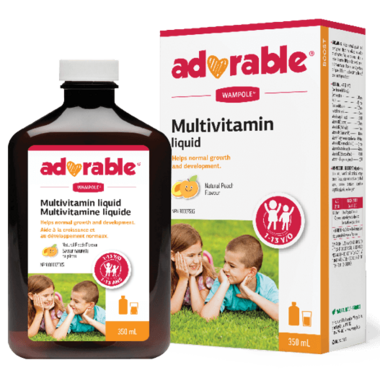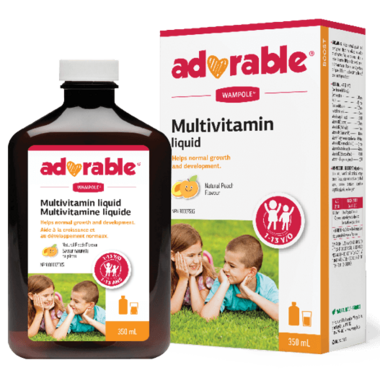 Wampole Adorable Multivitamin Liquid Peach Flavour

Wampole Adorable Multivitamin Liquid helps normal growth and development.
Additional Benefits:
Helps the body to metabolize carbohydrates, fats and proteins
Helps in tissue formation
Helps in the development and maintenance of bones, cartilage, teeth and gums
Helps in the absorption and use of calcium and phosphorus
Directions: 1-13 years: 1 tablespoon (15 mL) once daily. Shake well before use. Can also be mixed with water or fruit juice.
MEDICINALS INGREDIENTS (per dose unit 15 ml):
Beta-caroten——————— 154 mcg
Biotin ——————————–15 mcg
Folic acid (folate) —————–50 mcg
Pantothenic acid —————– 6.5 mg
Vitamin A (palmitate) ————500 IU
Vitamin B1 (thiamin) ————-0.8 mg
Vitamin B2 (riboflavin) ————-1 mg
Vitamin B3 (niacinamide) ——–10 mg
Vitamin B6 (pyridoxin hydrochloride) —-0.5 mg
Vitamin B12 (cyanocobalamin) -6 mcg
Vitamin C (ascorbic acid) ——–90 mg
Vitamin D3 (cholecalciferol) —-300 IU
Vitamin E (d-alpha tocopherol) –25 IU

NON-MEDICINAL INGREDIENTS: citric acid, natural and artificial peach flavour, potassium sorbate, purified water, sodium benzoate, sucralose, vegetable glycerin, xanthan gum