Webber Naturals Biotin 5000 mcg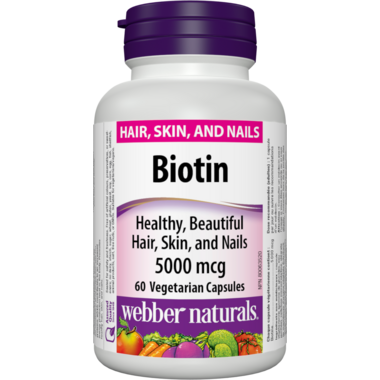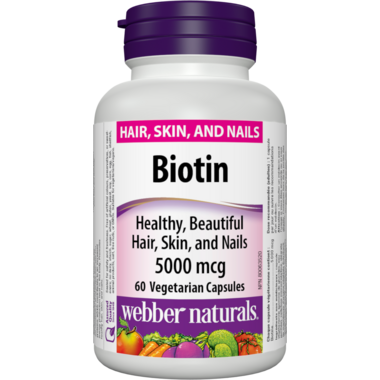 Webber Naturals Biotin 5000 mcg
Biotin is an essential B vitamin needed for the metabolism of carbohydrates, fats and protein to support optimal energy levels. Biotin is also a factor in the maintenance of good health. Webber Naturals Biotin 5000 mcg is a one-per-day, non-GMO formula that promotes healthy hair, skin, and nails.
Features:
Provides 5000 mcg of biotin per vegetarian capsule
Shown to strengthen brittle nails and benefit thinning hair and dry skin
Supports the production of fatty acids needed for healthy skin and cell membranes
An essential nutrient for the normal metabolism of carbohydrates, proteins, and fats
Recommended Dosage:
Adults take 1 capsule daily or as directed by a physician.
Ingredients:
Each vegetarian capsule contains: Biotin 2500 mcg
Caution:
Consult a physician prior to use if you are pregnant or breastfeeding. Keep out of reach of children.

Sealed for safety and freshness. Free of artificial colours, preservatives or sweeteners; no dairy, starch, sugar, wheat, gluten, yeast, soy, corn, egg, fish, shellfish, animal products, salt, tree nuts or GMOs. Suitable for vegetarians/vegans. Canadian brand.