Webber Naturals Collagen 30 Anti-Wrinkle 2500 mg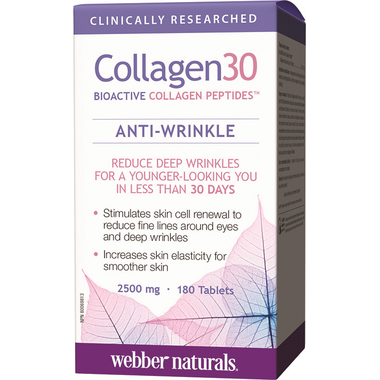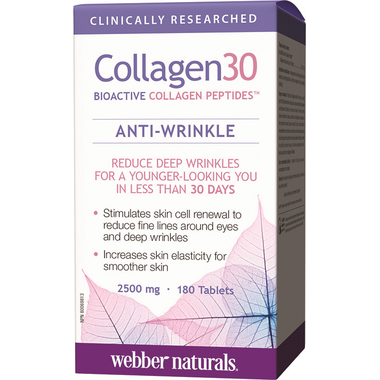 Webber Naturals Collagen 30 Anti-Wrinkle 2500 mg
Collagen30 Bioactive Collagen Peptides Anti-Wrinkle from Webber Naturals is a collagen peptide supported by clinical research to reduce fine lines around eyes and deep wrinkles. Collagen30 Anti-Wrinkle stimulates skin cells to produce more collagen to promote the appearance of smooth, healthy looking skin, in less than 30 days.
Features:
Collagen30 Anti-Wrinkle is scientifically optimized for beauty from within and supported by scientific research
Reduces eye wrinkles in less than 30 days
Reduces fine facial lines and depth of wrinkles
Increases skin elasticity and density
Helps reduce joint pain associated with osteoarthritis
Convenient 3 tablets serving daily
Recommended Dosage:
Adults take 1 tablet 3 times daily or as directed by a physician.
Ingredients:
Each tablet contains: Verisol® Bioactive Collagen PeptidesTM Type I and III Hydrolyzed Collagen (bovine) 833.33 mg
Caution:
May cause mild gastrointestinal disturbances. Keep out of reach of children.
Sealed for safety and freshness. Free of artificial colours, preservatives, or sweeteners; no dairy, starch, sugar, wheat, gluten, yeast, soy, corn, egg, fish, shellfish, salt, tree nuts, or GMOs. Canadian brand.