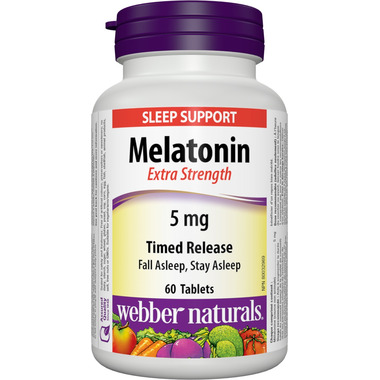 Description
When you experience sleeplessness, melatonin safely and effectively reduces the time it takes to fall asleep, increases the quality and duration of sleep, relieves daytime fatigue, and resets the body's sleep-wake cycle. Melatonin Timed Release, Extra Strength, 5 mg from webber naturals works in harmony with the body's own natural sleep hormones.
Benefits:
Timed release to support sleep through the night
Improves sleep quality
Regulates circadian rhythms
Free of artificial colours, preservatives, or sweeteners; no dairy, starch, sugar, wheat, gluten, yeast, soy, corn, egg, fish, shellfish, animal products, salt, tree nuts, or GMOs. Suitable for vegetarians/vegans. Canadian brand.
Ingredients:
Melatonin (5 mg).
Directions:
For adults only. 1-2 tablets daily before or at bedtime, or as directed by a physician. For use beyond 4 weeks, consult a physician.
Cautions:
Consult a physician prior to use if you have a hormonal disorder, diabetes, liver or kidney disease, cerebral palsy, seizure disorders, migraine, depression and/or hypertension, or if you are taking blood pressure or sedative/hypnotic medications. If symptoms persist continuously for more than 4 weeks (chronic insomnia), consult a physician. Do not drive or use machinery for 5 hours after taking melatonin. Do not use if you are pregnant or breastfeeding. Do not use if you are taking immunosuppressive drugs. Keeps out of reach of children.
Highlights

Shipping & Returns