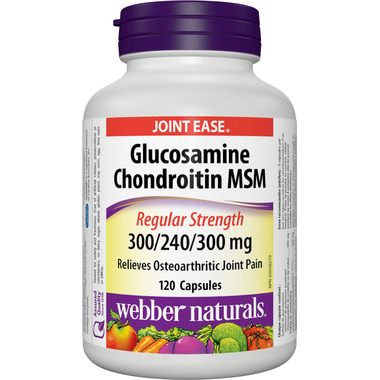 Description
Glucosamine, Chondroitin Sulfate & MSM now made with OptiMSM. OptiMSM is purely superior MSM. It is rigorously tested, supported by peer-reviewed published research. Glucosamine and chondroitin treat the underlying basis of osteoarthritis at the cellular level. MSM is a natural pain reliever and anti-inflammatory. It inhibits pain impulses along nerve fibres, helping to reduce pain and muscle spasms.
Medicinal Ingredients: Chondroitin sulfate, glucosamine sulfate, MSM (methyl-sulfonyl methane)

Non Medicinal Ingredients: Gelatin capsule (gelatin, purified water); vegetable grade magnesium stearate (lubricant).
Dosage: 300 mg / 240 mg / 300 mg
Highlights

Shipping & Returns