Webber Naturals Kava Kava 250mg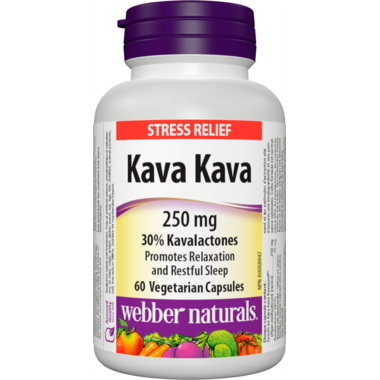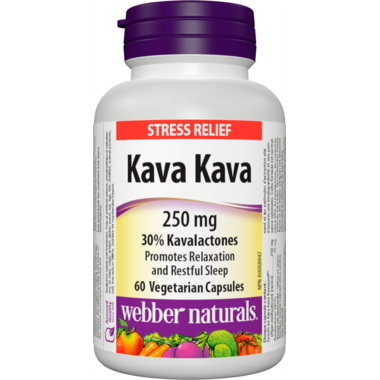 Webber Naturals Kava Kava 250mg
For centuries, the powdered root of kava has been used by South Pacific Islanders to enhance relaxation and mood, and to promote restful sleep. More recently, research has confirmed the benefits, safety and efficacy of Kavapure, a noble variety of Vanuatuan kava and the highest quality of kava available.
Standardized to 30% kavalactones Features Kavapure, a pharmaceutical quality kava which ensures the highest potency and bioavailability

Clinically studied and confirmed for safety and efficacy

A natural way to calm restlessness, and promote relaxation

Supports restful sleep Suitable for vegetarians and vegans; non-GMO
Directions:

Recommended dosage (adults): 2 capsules daily or as directed by a physician. Consult a physician for use beyond 6 months.
Ingredients:
Each capsule contains: Kavapure Kava kava Extract (Piper methysticum) (root) 250 mg Kavalactones (30%) 75 mg

Caution:

Consult a physician prior to use in the following cases: if you suffer from liver disease or epilepsy, if you are using conventional sedative-hypnotics (or natural health products with similar effects), anxiolytics, MAO inhibitors, and other psychopharmacological agents, levodopa (or other drugs for Parkinsonȕs disease), or anti-platelet agents. Consult a physician if symptoms persist or worsen. Consumption with alcohol or anti-convulsants is not recom - mended. Excessive use, or use with products that cause drowsiness, may impair your ability to operate vehicle or use heavy machinery. Discontinue use and consult a physician if you develop symptoms that may signal liver problems (e.g., unexplained fatigue, abdominal pain, fever, vomiting, dark urine, yellow eyes or skin). Do not use if you are preg - nant or breastfeeding. Keep out of reach of children.
Free of artificial colours, preservatives or sweeteners; no dairy, sugar, wheat, gluten, yeast, soy, egg, fish, shellfish, animal products, salt, tree nuts or GMOs. Suitable for vegetarians/vegans. Canadian Brand