Webber Naturals Men's Most Complete Multi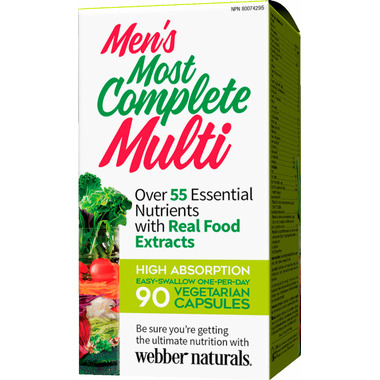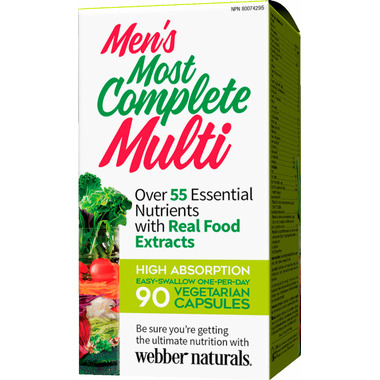 Webber Naturals Men's Most Complete Multi
Webber Naturals Men's Most Complete Multi is a one-per-day formula providing 100% of recommended vitamins and minerals in a whole-food base to maintain eyesight, skin, immune function, healthy bones, and muscle function for men under 50. Each easy-to-swallow capsule features over 55 nutrients from non-GMO sources, and is suitable for vegetarians.
Features:
Provides 100% of all daily vitamin and mineral needs in a wholesome fruit and vegetable base
Includes bioavailable forms of nutrients such as vitamin K2, which is often missing from other multivitamins
Convenient high-absorption one-per-day formula in easy-to-swallow vegetarian capsules
Features non-GMO ingredients
Suitable for vegetarians
Recommended Dosage:
Take 1 capsule daily with food, a few hours before or after taking other medications or natural health products, or as directed by a physician.
Ingredients: Each vegetarian capsule contains: Vitamins:
Beta-Carotene 1250 IU (750 mcg), Vitamin A (palmitate) 916 IU (275 mcg RAE), Vitamin D3 (cholecalciferol) 1000 IU (25 mcg), Vitamin C (ascorbic acid) 150 mg, Vitamin E ( d-alpha tocopherol) 25 IU (17 mg AT*), Vitamin B1 (thiamine hydrochloride) 5 mg, Vitamin B2 (riboflavin) 5 mg, Niacin 10 mg,
Niacinamide 15 mg, Vitamin B6 (pyridoxine hydrochloride) 10 mg, Biotin 55 mcg,
Vitamin K2 (menaquinone) as MK-7 (natto bean) 60 mcg, Pantothenic Acid (calcium d-pantothenate) 15 mg, Folic Acid (folate) 0 .25 mg, Vitamin B12 (cyanocobalamin) 30 mcg

Minerals:
Calcium (carbonate) 100 mg, Chromium (HVP** chelate) 100 mcg,
Iodine (potassium iodide) 25 mcg, Magnesium (oxide) 50 mg, Manganese (HVP** chelate) 2 .5 mg, Molybdenum (citrate) 12 .5 mcg, Potassium (citrate monohydrate) 7 .5 mg, Selenium (HVP** chelate) 55 mcg, Iron (ferrous fumarate) 6 mg, Zinc (HVP** chelate) 15 mg, Copper (HVP** chelate) 750 mcg,
Vanadium (citrate) 12 .5 mcg
Additional ingredients:
Inositol 10 mg, Choline (bitartrate) 5 mg, Lutein (Tagetes erecta) (marigold flower) 1 mg, Tomato Extract (Lycopersicon esculentum) (fruit) 600 mcg, Providing 30 mcg of Lycopene, Superfood Fruit Blend 15 mg

Proprietary blend of:
grape, pomegranate, strawberry, cranberry, blueberry, raspberry, bilberry (standardized to 76% polyphenols).
Superfood Cruciferous Vegetable Blend 15 mg
Proprietary blend of:
broccoli powder, daikon, red radish root extract, upland cress, cabbage, cauliflower powder, arugula, watercress, wasabi root.
Superfood Live Juice Concentrate 15 mg

Proprietary blend of:
cilantro, parsley, caper berry, artichoke, black radish root extract, dandelion root, kale powder, barley grass, celery seed powder, beet juice concentrate, tomato powder.
* AT: Alpha Tocopherol ** HVP: Hydrolyzed Vegetable Protein

Caution:
Keep out of reach of children. There is enough iron in this package to seriously harm a child. Consult a physician prior to use if you are taking blood thinners. Hypersensitivity has been known to occur, in which case discontinue use. People sensitive to nicotinic acid may experience flushing of the skin that is generally mild and transient.

Sealed for safety and freshness. Free of artificial colours, preservatives, or sweeteners; no dairy, sugar, wheat, gluten, yeast, egg, fish, shellfish, salt, tree nuts, or GMOs. Suitable for vegetarians. Canadian brand.







Leanne:
a few months ago
I haven't taken a multi for over 15 years because it affects my stomach. I've been taking this vitamin with dinner for about a month, and experience no problems with my stomach or anything else. They're big, scary-looking pills, but surprisingly easy to swallow (sometimes I gag on an advil liquid cap). I like them and will keep purchasing. They're a good price for a once a day and for the fact they contain no sugar or soy and are suitable for vegetarians, make them a great choice. I did lots of research before deciding on these.
Page
1