Webber Naturals Omega-3, 500 mg (EPA 300/ DHA 200)
BONUS! 33% More
150+50 softgels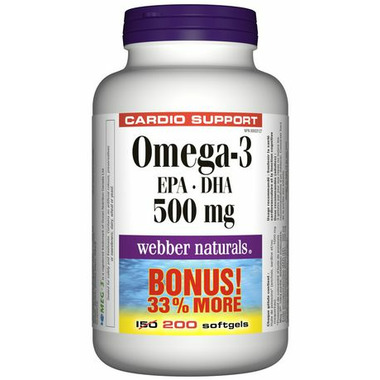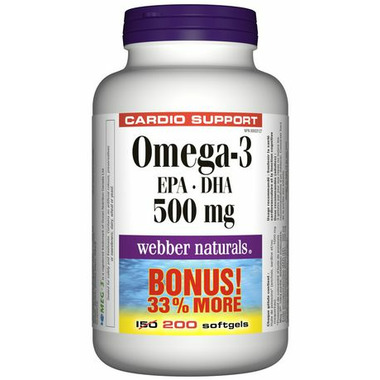 Webber Naturals Omega-3, 500 mg (EPA 300/ DHA 200)
BONUS! 33% More
150+50 softgels
Omega-3 fatty acids are required for support of our physical, emotional, and mental health. Fish oils are nature's best source of omega-3 fatty acids, providing "ready-made" EPA and DHA fatty acids. EPA helps lower cholesterol and has an anti-inflammatory effect on coronary arteries. DHA is important for improving mood, vision, and brain health.

Benefits:
Molecularly distilled and ultra purified
Pharmaceutical grade level of omega-3
Supports cardiovascular health and brain function
Reduces serum triglycerides/triglycerols
Free of artificial colours, preservatives or sweeteners; no dairy, starch, sugar, wheat, gluten, yeast, corn, egg, shellfish, salt, tree nuts or GMOs. Canadian brand.

Ingredients:
Fish Oil Concentrate* (anchovy, sardine and/or mackerel) 1000 mg
Providing:
Eicosapentaenoic Acid (EPA) 300 mg
Docosahexaenoic Acid (DHA) 200 mg
*Molecularly distilled, ultra purified.
Cautions:
Keep out of reach of children.