Webber Naturals Omega-3 & CoQ10 with Plant Sterols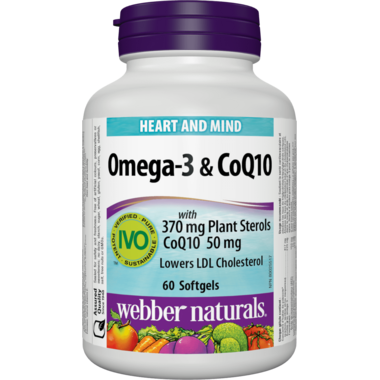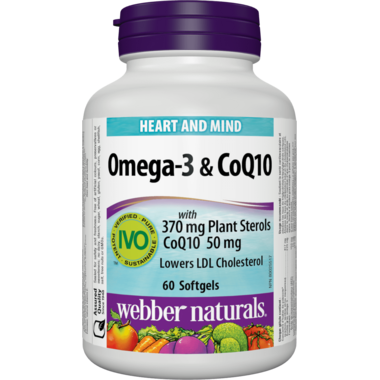 Webber Naturals Omega-3 & CoQ10 with Plant Sterols
Omega-3 & CoQ10 with Plant Sterols from webber naturals is the ideal way to naturally lower total cholesterol, LDL cholesterol, and triglycerides without unwelcome side effects. Heart-healthy CoQ10 and omega-3 are enhanced with plant sterols for comprehensive cardiovascular support in one natural source product.
Helps lower blood total and LDL cholesterol

Helps maintain healthy cholesterol levels Helps reduce serum triglycerides/triacylglycerols

Helps maintain and support cardiovascular health Source of EPA and DHA for the maintenance of good health

Contains no artificial flavours, preservatives or sweeteners

Contains no dairy, no starch, no gluten or no yeast
Directions:

Recommended dosage (adults): 2 softgels daily with meals or as directed by a physician. Reduce Serum Triglycerides: 5 softgels daily with meals or as directed by a physician.
Ingredients:

Each softgel contains: Fish Oil Concentrate* (anchovy, sardine and/or mackerel) 417 mg Omega-3 Fatty Acids 225 mg Providing: Eicosapentaenoic Acid (EPA) 150 mg Docosahexaenoic Acid (DHA) 75 mg Coenzyme Q10 (microorganism) 50 mg Free Plant Sterols 370 mg (Glycine max (seed), Brassica napus (whole), Gossypium herbaceum (seed), Zea mays (whole)) (containing 80% beta-sitosterol, campesterol and stigmasterol) * Molecularly distilled, ultra purified.

Caution:

Consult a physician prior to use if you are taking blood pressure medication or blood thinners or if you are pregnant or breastfeeding. Keep out of reach of children
Free of artificial colours, preservatives or sweeteners; no dairy, starch, sugar, wheat, gluten, yeast, corn, egg, shellfish, salt, tree nuts or GMOs. Canadian Brand