Webber Naturals Omega-3 Kids Softgels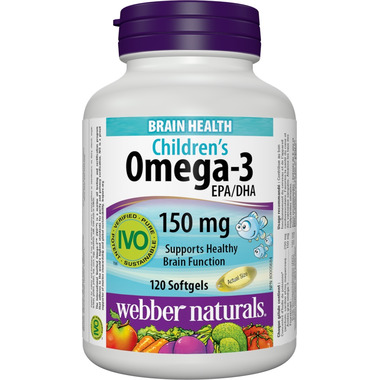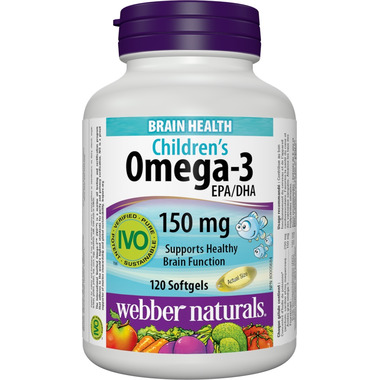 Webber Naturals Omega-3 Kids Softgels
Children require the omega-3 fatty acids called EPA (eicosapentaenoic acid) and DHA (docosahexaenoic acid) for healthy physical and mental development. EPA and DHA can be made in the body from omega-3 bearing vegetable oils, or supplied in ocean fish oils. However, over the last 20 or so years social and family standards for childhood nutrition have permitted significant percents of daily calories to come from "foods" that do not support the robust in-body production of EPA and DHA needed for optimal physical and mental development.

Many children today suffer from health conditions related to EPA and DHA deficits. Examples include attention deficit/hyperactivity disorder (ADD/ADHD), aggressive/hostility behavior, and bronchial asthma. Also, adequacy in EPA and DHA facilitates the full potential of visual and cognitive development and reduces risk for childhood Type 2 diabetes. Supplementation with EPA and DHA over 3 to 12 months may improve the life quality of children with cystic fibrosis, and lessen the hyperactivity and stereotype seen in autism.

This product assists parents in the difficult task of ensuring that their children receive adequacy in EPA and DHA. Each softgel supplies 100 mg of EPA and 50 mg DHA, with natural orange flavoring for chewing when required.
Dosage: EPA 100 DHA 50



Angelica:
more than a year ago
As per one of the reviews, I thought my little granddaughter would need to learn to swallow these. It turns out they don't taste bad because they're orange flavored and my granddaughter just chews them. I love this product and highly recommend. They really help with her mood and focus; she hardly has any crying episodes anymore. Highly recommend this product!!
Donna:
more than a year ago
I really had high hopes for this product as I am trying to move my kids away from gummy chewable vitamins. They are a nice small softgel which I think would be beneficial for a child learning to swallow pills, however the problem is that the dosage is 3 softgels, 3 times a day. This is a bit much for my first time pill swallowers. My review is based solely on logistics, and is not a reflection of the efficacy of the product.
Page
1