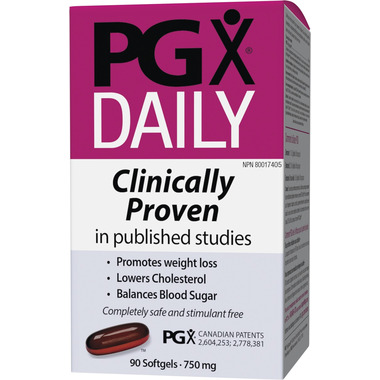 Description
Webber Naturals PGX Daily Ultra Matrix Softgels is a unique highly soluble polysaccharide (fibre) blend that helps promote healthy blood sugar levels and supports weight management, safely and easily. Research show that consuming PGX with or before meals creates a sense of fullness that effectively controls appetite for several hours, making it possible to decrease food intake without experiencing hunger.
Features:
PGX can reduce a meal's glycemic index by up to 50% contributing to healthy blood sugar levels and improving insulin sensitivity
Contains PGX fibre blend and health enhancing MCTs (medium chain triglycerides) from purified coconut oil
Ingredients: PGX (PolyGlycopleX) 750 mg [konjac (Amorphophallus konjac) (root), sodium alginate, xanthum gum], in a base of medium chain triglycerides (MCTs) 600 mg.
Consult a physician prior to use if you are under 18 years of age, pregnant or breastfeeding, or have any healthy concerns. If you are taking medications, take one hour prior to or two hours after taking PGX® Daily. If your goal is to achieve weight loss, or if diabetic or on cholesterol lowering medications, consult a qualified health care practitioner prior to use.

Dosage: 750 mg
Highlights

Shipping & Returns