Webber Naturals St. John's Wort Extract 300 mg
BONUS! 50% More
60+30 capsules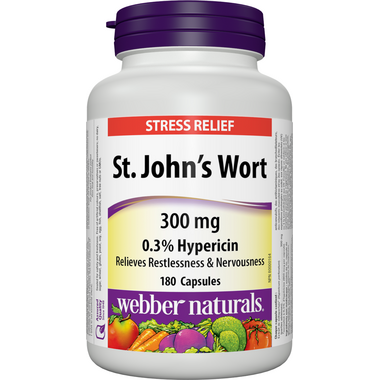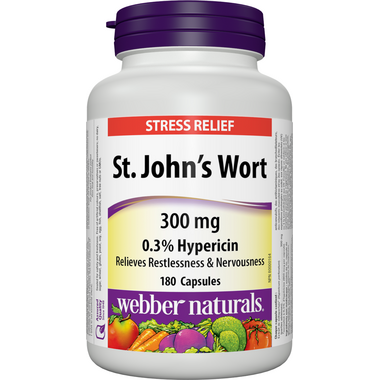 Webber Naturals St. John's Wort Extract 300 mg
BONUS! 50% More
60+30 capsules
St. John's Wort Extract is a full-spectrum, standardized potency containing guaranteed levels of 0.3% hypericin. Studies show that people taking St. John's Wort experience natural mood elevation and reduced feelings of sadness or hopelessness and often experience a better sleep pattern. Unlike pharmaceutical antidepressants, there are virtually no side effects.

Benefits:
Standardized to 0.3% hypericin per capsule
Derived exclusively from St. John's wort flowers
Reliable remedy backed by science
Available in 60 and 190 capsules
Free of artificial colours, preservatives or sweeteners; no dairy, sugar, wheat, gluten, yeast, soy, egg, fish, shellfish, salt, tree nuts or GMOs. Canadian brand.

Directions:
Recommended dosage (adults): 1 capsule 3 times daily preferably with meals or as directed by a physician.
Duration of use: Use for up to 6 weeks.

Ingredients:
Each Capsule Contains:
St. John's Wort (Hypericum perforatum) (extract, aerial parts) 300 mg
Standardized to contain 0.3% hypericin (900 mcg per capsule)

Caution:
Consult a physician if you are taking conventional medication, such as contraceptives, HIV-1 protease inhibitors, non-nucleoside reverse transcriptase inhibitors, immunosuppressants, anticoagulants, digoxin, theophylline, serotonergic antidepressants, migraine therapies, SSRIs or anti-epilepsy drugs. Consult a physician if you experience sleep disturbances or if symptoms persist. Avoid prolonged exposure to sunlight, ultraviolet light or UV therapy. Do not use during pregnancy or breastfeeding. Keep out of reach of children.