Webber Naturals Timed Release B100 Complex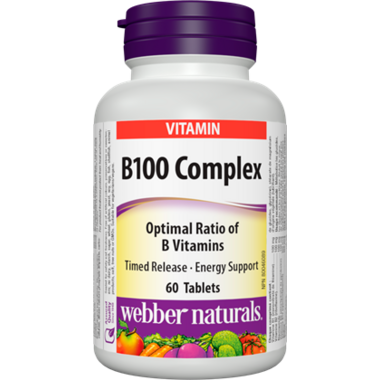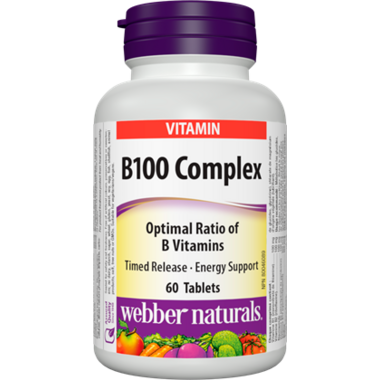 Webber Naturals Timed Release B100 Complex
The B vitamins are essential for a robust metabolism due to their role as coenzymes in breaking down fats, carbohydrates, proteins, and amino acids. Physical or mental stress, or low dietary intake of wholesome foods can contribute to B vitamin deficiency which can be experienced as a general malaise. Deficiency may also be caused by malabsorption conditions, or certain drugs and medications.

Webber Naturals Timed Release B100 Complex offers a complete B complex to ensure no single B vitamin is out of balance with the others. The nutrients choline and inositol are included to improve fat metabolism. This convenient one-per-day tablet provides a gradual, timed release that your body can use throughout the day.

Ingredients:
Vitamin B1.... 100 mg
Vitamin B2.... 100 mg
Niacinamide..100 mg
Vitamin B6.....100 mg
Vitamin B12....100 mcg
Biotin.............100 mcg
Folate ............1 mg
Pantothenic Acid...100 mg
Choline............40 mg
Inositol............100 mg

Non-Medicinal Ingredients: Microcrystalline cellulose, dibasic calcium phosphate dihydrate, carbohydrate gum, coating (carbohydrate gum, glycerin), vegetable grade magnesium stearate (lubricant).

Directions (adults): 1 tablet daily or as directed by a physician. Keep out of reach of children.