Webber Naturals
Webber Naturals Triple Strength Omega-3 EPA/DHA 900mg
BONUS! 20% MORE 120 Capsules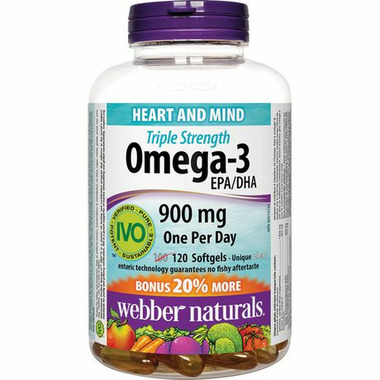 BONUS! 20% MORE
120 Capsules
---
Description
Triple Strength Omega-3, 900 mg (EPA/DHA) delivers over 600 mg of EPA and 300 mg of DHA. This dosage is ideal for people with high triglyceride levels, high blood pressure, and risk of coronary artery disease. This dosage is also appropriate for people struggling with cognitive decline. Also, it is a clear enteric softgel, therefore eliminating heartburn or reflux.
Recommended Dosage:
(Adults) 1 clear enteric softgel daily or as directed by a physician. Reduce triglycerides & mood balance: 2 clear enteric softgels daily or as directed by a physician. Rheumatoid arthritis support: 4 clear enteric softgels daily or as directed by a physician.
Free of artificial colours, preservatives or sweeteners; no dairy, sugar, wheat, gluten, yeast, soy, corn, egg, shellfish, salt, tree nuts or GMOs. Canadian brand.

Keep out of reach of children.
Highlights

Features
Reduces the risk of cardiovascular disease and heart attack
Helps lower triglyceride levels and blood pressure
Supports cognitive function, mood and reduces of symptoms of depression
Reduces inflammation in conditions like rheumatoid arthritis and inflammatory bowel disease
Enteric coated to eliminate heartburn or reflux
Ingredients
Each clear enteric softgel contains: Fish Oil* (anchovy, sardine and/or mackerel) 1425 mg Omega-3 Fatty Acids 900 mg Providing: Eicosapentaenoic Acid (EPA) 600 mg Docosahexaenoic Acid (DHA) 300 mg * Molecularly distilled, ultra purified. Non-Medicinal Ingredients: Ethyl cellulose, Gelatin, Glycerol, Medium-chain Triglycerides, Oleic acid, Pectin, Sodium alginate, Sorbitol, Stearic Acid, Tocopherols, Water.
Shipping & Returns