Webber Naturals Vitamin B12 Methylcobalamin 5000 mcg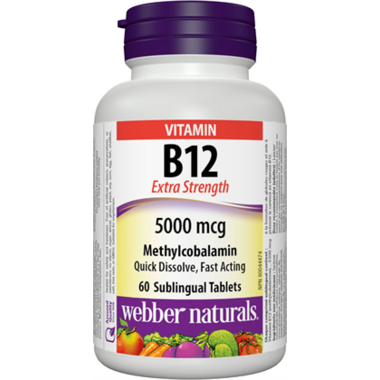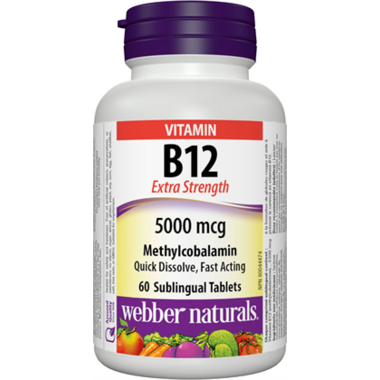 Webber Naturals Vitamin B12 Methylcobalamin 5000 mcg
Vitamin B12 Methylcobalamin 5000 mcg from webber naturals supports the healthy structure and function of the nerves and brain. This sublingual tablet dissolves under the tongue and is active immediately upon absorption. B12 is necessary for heart health, energy, nervous system function, and also helps with memory and learning.
Benefits:
Methylcobalamin is the superior and biologically active form of vitamin B12
Sublingual tablet
Extra strength 5000 mcg can be safely supplemented by those requiring vitamin B12 such as for metabolism support, red blood cell production, and cardiovascular health
A convenient alternative to injections
Free of artificial colours, preservatives, or sweeteners; no starch, sugar, wheat, gluten, yeast, soy, corn, egg, fish, shellfish, salt, tree nuts, or GMOs. Suitable for vegetarians. Canadian brand.
Directions:
Recommended dosage (adults): Dissolve 1 tablet daily under the tongue or as directed by a physician. Consult a physician for use beyond 4 months.
Ingredients:
Each sublingual tablet contains:
Vitamin B12 (methylcobalamin) 5000 mcg
Caution:
Consult a physician prior to use if you are pregnant or breastfeeding. Keep out of reach of children.