Webber Naturals Vitamin D3 Liquid, 1000 IU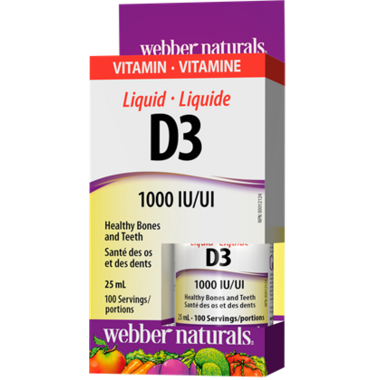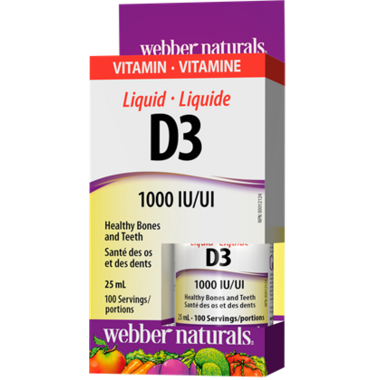 Webber Naturals Vitamin D3 Liquid, 1000 IU
Vitamin D helps boost bone mineral density. Vitamin D deficiency-related bone thinning is common among the elderly, those with dark skin, persons who stay indoors, or who wear clothing that covers most of their skin. Research suggests higher doses of vitamin D may also provide protection against certain cancers.
Benefits:
Each 0.25 mL provides 1000 IU (25 mcg) of vitamin D3
Easy to take, convenient dropper for accurate dosing
Only one drop needed per day
Free of artificial colours, preservatives or sweeteners; no dairy, starch, sugar, wheat, gluten, yeast, soy, corn, egg, fish, shellfish, salt, tree nuts or GMOs. Suitable for vegetarians. Canadian brand.

Directions:
Recommended dosage (adults): 0.25 mL daily or as directed by a physician. Shake well before use.

Ingredients:
Each 0.25 mL Contains:
Vitamin D3 (Cholecalciferol) 25 mcg (1000 IU)
Cautions:
Keep out of reach of children.