Weleda
Weleda Calendula Intensive Skin Recovery Cream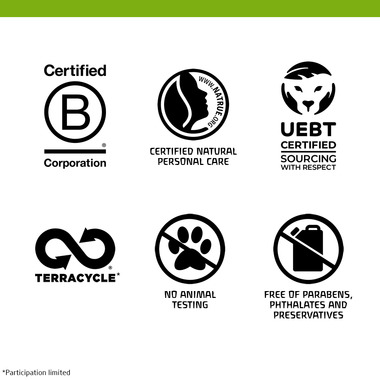 Weleda
Weleda Calendula Intensive Skin Recovery Cream
26.6 mL
Weleda Calendula Intensive Skin Recovery Cream
is rated out of
5
by
20
.
---
Description
Weleda Calendula Intensive Skin Recovery Cream is highly concentrated and calms sensitive skin. It's formulated with a high percentage of biodynamically grown calendula, handpicked from Weleda's own gardens in Germany. This cream is free of GMOs, synthetic preservatives, fragrances, colorants and raw materials derived from petroleum.
Features:
Certified B Corporation
Certified natural personal care
UEBT Certified
Terracycle
No animal testing
Free of parabens, phthalates and preservatives
Active Ingredients:
Calendula Officinalis MT (M) 5g.
Inactive Ingredients:
Beeswax, Lanolin, Lanolin Alcohols, Sesame Oil, Water.
Highlights

Shipping & Returns
Rated

5

out of

5
by
Cate
from
I love this stuff and I have the MOST sensitive skin
I used to have flawless porcelain skin (I'm 26). Suddenly, I was hit by rosacea a year ago, and hit hard. Terrible facial flushing, burning, bumps, pustules, redness. I still have this and haven't been able to get it under control (its horrible) BUT after trying literally dozens of creams, this is the only one that doesn't burn or irritate my face. It is so calming. I have huge issues with scents, but this natural scent does not bother me one bit. I wish I could say it saved my skin, but nothing has, but just being able to actually use a cream without burning is a big victory for me.
Date published: 2020-04-12
Rated

5

out of

5
by
Amy
from
I could not rave about this cream more. I was having trouble with aggressive eczema on my eyelids out of all places. It flares up during winter months and I was getting tired of using hydrocortizone, especially given how it thins out your skin. I used a variety of different balms and creams, but this did the trick and I'm hoping it stays that way. A layer of my regular moisturizer, then the calendula cream and finally Aquaphor to seal it in. Works wonders!
Date published: 2019-12-20
Rated

4

out of

5
by
Johanna
from
Great texture, and works rather well. Docking one star though because the tube is way smaller than i thought it would be - gets quite pricey, and you can't really just use a tad. I would recommend using the Baby Calendula cream instead (from Weleda too).
Date published: 2017-01-20
Rated

4

out of

5
by
Leah
from
I have used Calendula products in a liquid form to heal surgery stitches in the past and looked to Well.ca to find a product for a recent surgery scar. I feel that using this cream in combination with Vitamin E has really reduced the redness, puckering and overall prominence of the scar. Recently used it on a deep, slow healing wound of my 7 year old son and it seemed to me to work better than Poly. However, I use don't use it on newly opened wounds for my boys as there is a "tingle" factor that they will only tolerate once it is heal over a bit.
Date published: 2012-06-01
Rated

4

out of

5
by
Donna
from
This cream has made a world of difference for me with my rosacea. In combination with taking evening primrose & using this cream I can control my flare ups by decreasing the redness & irritation greatly in a matter of minutes within applying the cream.
Date published: 2017-02-08
Rated

5

out of

5
by
Carolyn
from
I've been using calendula ointment since the midwife in England suggested it for breastfeeding nipples almost thirty years ago! It's great for dry, chapped, cracked skin, sore red noses...sometimes healing skin overnight. This product is soothing and I use it instead of antibiotic cream, since I am allergic to some of their ingredients.
Date published: 2016-09-27
Rated

5

out of

5
by
dada45
from
Love it
Love this product. It helps with my rosacea flares. I have extremely hard time finding creams that help with my skin, it reacts to everything that is recommended for rosacea. This cream calms my skin during the night.
Date published: 2020-08-13
Rated

5

out of

5
by
Anne
from
The most soothing as well as gentle and therapeutic ointment for itchy dermatitis and delicate, dry, cracked, flaky skin. No need for cortisone creams!!
Date published: 2016-04-18