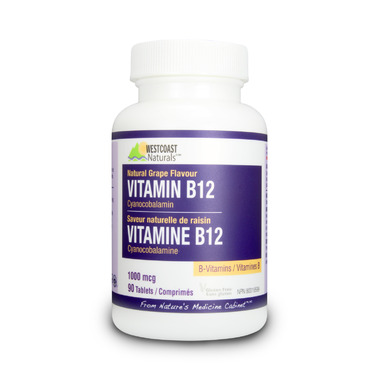 Description
This essential nutrient is required by our bodies to make nuclearic acids that make up genes; to produce energy from sugars and fats; to form red blood cells; and for normal growth of the nervous system. Vitamin B12 is found only in foods derived from animals.

Everyone needs Vitamin B12, but seniors and vegetarians are especially vulnerable to deficiency.

Minor B12 Deficiency
A minor deficiency can be indicated by impaired brain function, fatigue, numbness or pins and needles sensation in the toes, pale complexion, or male infertility.
Major B12 Deficiency
A major deficiency can cause severe nerve damage. An "early warning system" of nerve damage is the development of anemia or pernicious anemia. A high dose of a folic acid supplement will prevent anemia, but also masks this early warning system, therefore allowing permanent damage to the nervous system. Individual B12 levels should be checked by a physician prior to taking large doses of folic acid.
Direction: Take 1 tablet per day with a glass of water.

Ingredients: Vitamin B12 (Cyanocobalamin), Mannitol, Croscarmellose Sodium, Natural Grape Flavour, Citric Acid Anhydrous, Silica, Stearic Acid, Magnesium Stearate, Stevia Leaf Extract, Sorbitol Powder, Maltodextrin, Dextrose, Tricalcium Phosphate, Dicalcium Phosphate.
Should you require consultation with a pharmacist, you may contact our Well.ca Pharmacist. Please read the label, warnings and inserts provided by the manufacturer and consult your healthcare professional when purchasing medications or natural health products to be sure the product is right for you.
Dosage: 1000 mcg
Shipping & Returns