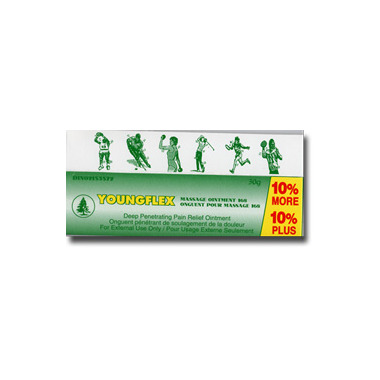 30 g
Youngflex Massage Ointment
is rated out of
5
by
11
.
---
Description
Youngflex Therapy is totally different from other creams, lotions, ointments, patches, painkillers, cortisone shots, or even joint surgeries. Youngflex Therapy is precisely formulated to effectively & safely take out deep tissue muscle inflammation – causes for chronic pains that X-rays or MRIs cannot detect applying pressure up to the maximum degree of endurance for pain by each patient in order to avoid cortisone shots and joint surgeries. The long-term benefit of applying Youngflex Therapy when there is deep tissue muscle inflammation is to always limit chronic pains with the areas of muscle only, never allowing such deep tissue muscle inflammation to spread over onto joints leading to unnecessary joint surgeries due to wear and tear over years.

Relieves pain due to:
Osteoarthritis/Knee Arthritis/Achy Knee
Fibromyalgia
Nagging Headache
Finger Joint Arthritis
Carpal Tunnel Syndrome
Tennis Elbow
Numbness in arm/fingers
Trigger Finger
Frozen Shoulder / Bursitis in shoulder joint
Hip Pain
Lumbago
Lower Back Pain/Sciatica Nerve
Cramp
Sprained Ankle
Heel Pain / Planta Fasciitis
Kid's Growing Pain

Recommended daily applications of "Youngflextherapathy" are three times for severe Symptoms, two times for Mediocre Symptoms and one time for minor Symptoms. If patients feel cold after applications of "Youngflextherapathy", never put on hot pads, but only wear more cotton/wool underwear. Also, do not use massage machines or equivalents together with Youngflex products.
Shipping & Returns
Unfortunately, due to the nature of this item, we cannot accept any returns.
We are only able to ship this item to Canadian customers.
Click here for more information
Rated

5

out of

5
by
Fibroflare
from
Really Works
I have been using this for over 7 years. It's the only thing that works for my deep muscle and tissue pain. I have let my friends and family use mine and they are all hooked now as well. You rub it on as hard as you can stand to rub and after a while, if you feel it stopped working you just rub it again and it's like you just put it on all over. You can feel it really deep, a cooling and heating effect at once but deep under the skin and nothing else feels this way and I have tried everything. Just remember to really rub it in the more you can stand to rub the deeper you will feel it working. Although it still works if you can't rub hard as well.
Date published: 2021-09-08
Rated

5

out of

5
by
Jason
from
superb product
I first found this product at the marketplace at the PNE. don't often have many issues with the body except for a few tight back muscles. used this on my back whenever I had muscle knots before I went to bed. woke up the next day wondering if I even had a back problem the day before. have recommended this to family and friends and will continue to buy this product and share it with those I know that need it. word of mouth is still the best way to get more and more people to use this. so glad that Well.ca is carrying this
Date published: 2021-06-30
Rated

5

out of

5
by
DEF
from
It works!!!
I first discovered this ointment many years ago in a mall at a kiosk, an Asian woman demonstrated on my shoulders how to Massage into the skin. This ointment is fantastic! It takes the pain away when I am having back and sciatica pain issues and all for a great price
Date published: 2020-01-12
Rated

5

out of

5
by
DEF
from
Pain relief!
I first discovered this ointment a few years ago at a kiosk in a mall! I was thrilled to find it on Well.Ca. It is fantastic at relieving pain in muscles and joints but does have a medicinal smell not a bad one just be aware
Date published: 2020-09-09
Rated

5

out of

5
by
Reiki Master
from
My 113 year old grandfather loved this Product and so do I
As a child and adult I use to watch my grandfather use this product. He loved it and I could never figure out why. I started using it for bruises, pain etc... my mom uses it for everything. It's amazing on bruises as I watched my bruise turn into a totally different color. It works and is an awesome product!!
Date published: 2021-11-03
Rated

5

out of

5
by
Bren
from
It really works for my nerve pain!
I'm on my third tube of this. I use it in conjunction with bio freeze. This stuff is amazing. I don;t know what it is in it but it really works on my nerve pain and my other aches and pains as well. Sure it smells strong but it's worth it for the relief!
Date published: 2020-02-21
Rated

5

out of

5
by
Em
from
Great for Nerve Pain
My husband suffers from nerve pain in his elbow. So far, this has been the only thing he can find to get some relief! It lasts for a long time because you don't need to use much for it to start working.
Date published: 2021-02-10
Rated

5

out of

5
by
Velee
from
Wow!!!
This cream is amazing!!! Deep penetration in a matter of minutes. It definitely eases my pain better than any other pain ointment I've tried. Strong menthol smell, but who cares? It works!!!
Date published: 2020-06-20