Yummi Bears Organics Immunity Health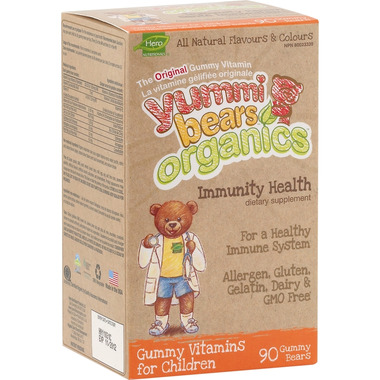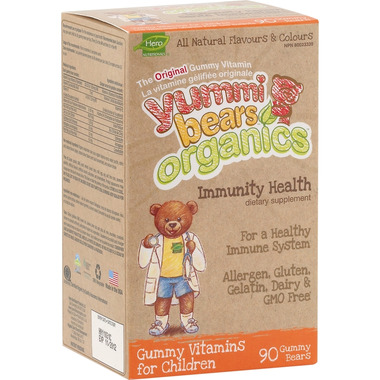 Yummi Bears Organics Immunity Health
Yummi Bear vitamins are the fun and delicious way to get your kids to take their vitamins! They're so good that you might actually have to say, "Kids, that's enough vitamins today!"
Yummi Bears gummy vitamins are made with premium ingredients that are scientifically formulated with a child's growth and development in mind.
Features:
For a healthy immune system
All natural flavours and colours
Allergen, gluten, gelatin, dairy and GMO free
Suggested Use:
For the maintenance of good health.
Recommended Dose:
Guardians may give each child six (6) gummy bears per day. Three (3) in the AM and three (3) in the PM. Instruct child to chew each Yummi Bear carefully and thoroughly.
Medicinal Ingredients: Each gummy bear contains:

Vitamin A (Vitamin A Palmitate) ... 100 mcg RAE (333.33 IU)
Vitamin C (ascorbic acid) ... 5 mg
Vitamin E (d-alpha-tocopheryl acetate) ... 2.8 mg ATE (4.16 IU)
Vitamin B6 (Pyridoxine hydrochloride) ... 0.167 mg
Folic Acid ... 66.67 mcg
Zinc (Zinc citrate) ... 1.25 mg
Echinacea (Echinacea purpurea) ... 8.3 mg
Astragalus (Astragalus membranaceus) ... 8.3 mg
Rose Hips ... 8.3 mg
Other Ingredients: Organic evaporated cane juice, organic tapioca syrup, pectin, citric acid, natural flavour (apple), natural colour (black carrot juice concentrate), sodium citrate.

Free of: Gluten, gelatin, GMOs, yeast, wheat, dairy, eggs, soy, salt, tree nuts, peanuts, shellfish, fish, artificial flavours, artificial colours, and artificial preservatives.