Zantac 150 Maximum Strength Tablets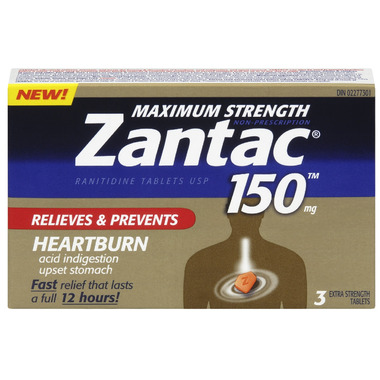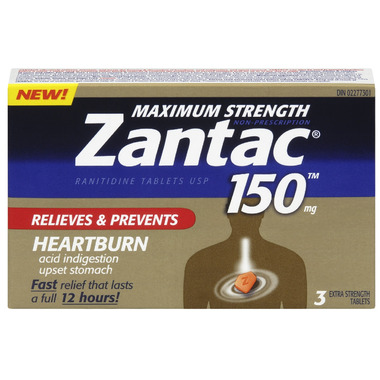 Zantac 150 Maximum Strength Tablets
- We're sorry, this product is no longer available!
- Shop for other products in: Tablets & Powders

ZANTAC 150® Maximum Strength Non-Prescription Tablets work fast to relieve and prevent heartburn and acid indigestion. Containing the acid-reducing ingredient ranitidine hydrochloride, ZANTAC® can control stomach acid for up to 12 hours*. It effectively prevents, relieves, and treats the burning and discomfort of heartburn, acid indigestion, and upset or sour stomach. ZANTAC® relieves heartburn fast and lasts for hours. Sugar-free, sodium-free, and gluten-free.

*One tablet reduces and controls the production of excess stomach acid for up to 12 hours, day or night.

Directions: Please read insert before taking ZANTAC®. Adults and children 16 years and older. For relief: Take one tablet as needed. If symptoms persist for more than one hour or return after one hour, a second tablet may be taken. Do not exceed more than two tablets in 24 hours. If symptoms persist for more than two consecutive weeks, consult your doctor. ZANTAC® can also be used to prevent heartburn before it starts. For prevention: Take one tablet 30 to 60 minutes before eating/drinking items you expect to cause symptoms. Maximum dose two tablets daily. Contact a doctor if symptoms get worse or continue after 14 days of use.

Medicinal Ingredient: Each tablet contains 150 mg of ranitidine, as ranitidine hydrochloride.

Non-Medicinal Ingredients: Hypromellose, magnesium stearate, microcrystalline cellulose, synthetic red iron oxide, titanium dioxide, and triacetin.