zazubean
zazubean Nutbar Coconut & Almonds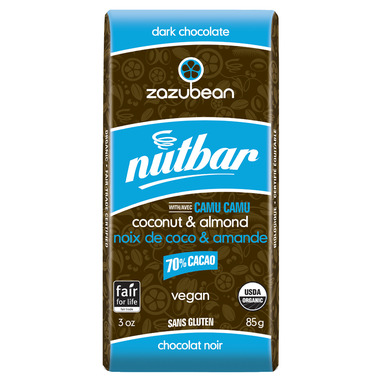 zazubean
zazubean Nutbar Coconut & Almonds
Description
If you go nuts for coconut, you'll love Nutbar's rich dark 70% chocolate with coconut, roasted almonds and Peruvian superfruit Camu Camu.

Key Organic Ingredients:
Roasted Almonds contain protein, dietary fiber, phosphorus, calcium, potassium, magnesium, manganese, copper, zinc, iron and vitamin E.
Coconut is very low in cholesterol and sodium. It is also a very good source of Manganese.
Superfruit Camu Camu grows in the Amazonian rain forest of Peru. Energizing Camu Camu has more natural Vitamin C than any other known plant.
Ingredients: Cocoa mass**, Cane sugar**, Coconut flakes**, Cocoa butter**, Almonds*, Camu Camu*, Vanilla**. **Fair Trade Certified AND Certified Organic. *Certified Organic.
Contains nuts. May contain traces of milk, hazelnuts and peanuts.
Highlights

Shipping & Returns