ZzzQuil
ZzzQuil Liquicaps Sleep-Aid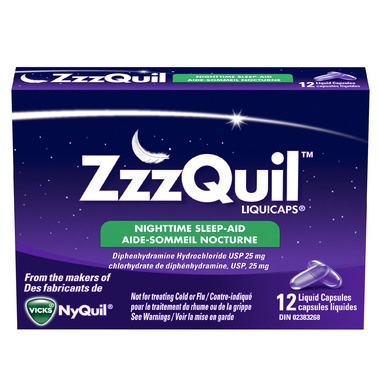 ZzzQuil
ZzzQuil Liquicaps Sleep-Aid
Description
Sleep soundly with ZzzQuil™ LiquiCaps®. With just one dose, this non-habit-forming sleep-aid helps you get exactly what you need—a beautiful night's rest, so you can wake up feeling refreshed.
Features:
For the relief of occasional sleeplessness
Reduces time to fall asleep if you have difficulty falling asleep
Dosage: for Adults and Children over 12, take two 25 mg LiquiCaps® (50 mg) at bedtime if needed or as directed by a doctor. Take only one dose per day (24 hours).
Active Ingredients (in each LiquiCap®): Diphenhydramine HCl 25 mg
Inactive Ingredients:
FD&C Blue No. 1, FD&C Red No. 40, Gelatin, Glycerin, Polyethylene Glycol, Purified Water, Sorbitol, Titanium Dioxide
Should you require consultation with a pharmacist, you may
contact our Well.ca Pharmacist.
Please read the label, warnings and inserts provided by the manufacturer and consult your healthcare professional when purchasing medications or natural health products to be sure the product is right for you.
Shipping & Returns
Unfortunately, due to the nature of this item, we cannot accept any returns.
We are only able to ship this item to Canadian customers.
This item cannot be shipped to Quebec due to provincial pharmacy regulations.
Click here for more information