Adrien Gagnon NEM Pain Relief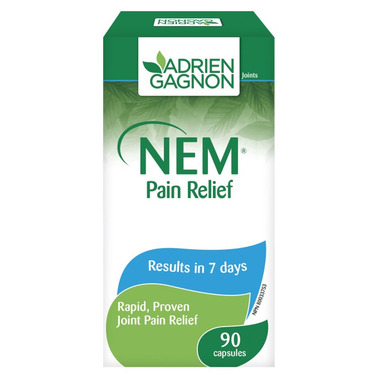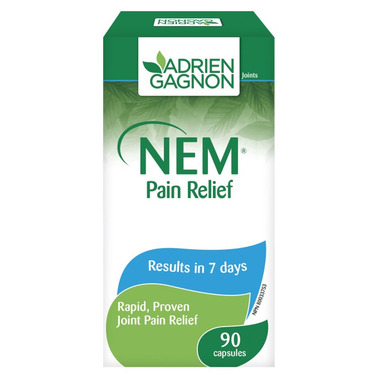 Adrien Gagnon NEM Pain Relief
A single daily capsule of NEM for 7 days is enough to reduce joint pain quickly and efficiently. This supplement is also recommended for people looking for an alternative to glucosamine. This formula is more than an anti-inflammatory, it targets the cause of your pain, for real results.
Features:

Clinically proven to help reduce joint pain in 7-10 days.
Helps relieve joint pain and reduce stiffness.
Reasons for taking this product?

To fight joint pains and reduce stiffness in a natural, fast, simple and effective way.
A single capsule a day is enough!
NEM innovative ingredient relieves joint pains faster than glucosamine or chondroitin.
Improves joints mobility (knee, hips, shoulder, elbow, hands, back and neck).
Clinically proven fast action.
Who will benefit from this product?
People who want a fast relief pain due to degenerative osteoarthritis and arthritis.
People who want a fast relief of acute joint pain due to unusual movements or activities.
People looking for an alternative to glucosamine.
People who have joints stiffness in the morning or after resting periods.
People who constantly experience difficulty moving joints, reduced mobility because of stiffness or pain.
Dosage: Adults: Take 1 capsule daily.
Use for a minimum of 7-10 days to see beneficial effects.
Ingredients:

Each capsule contains:
NEM (Natural Eggshell Membrane) Partially hydrolyzed eggshell membrane (from chicken) [Gallus gallus] : 500 mg
Caution: Do not use if you are pregnant, breastfeeding or if you are allergic to eggs. Consult a health care practitioner if symptoms worsen or for a use beyond 8 weeks.