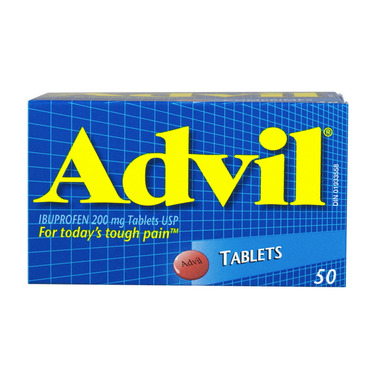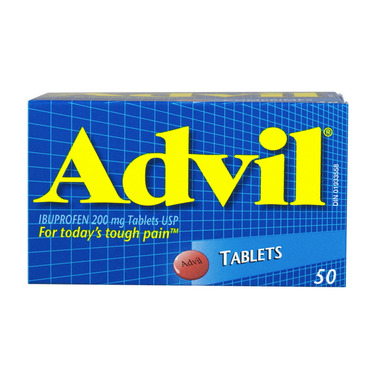 You can't always stop for pain, and pain won't stop for you. So take action with Advil for fast pain relief. Its unique coating makes it easy to swallow.

Uses: For fast and effective relief of: headache; muscle & joint pain; arthritis pain; backache; menstrual pain; toothache; reduction of fever.

Active Ingredient: Ibuprofen 200 mg; Pain reliever/Fever reducer

Non-medicinal Ingredients: Acetylated monoglycerides, beeswax, carnauba wax, corn starch, croscarmellose sodium, iron oxides, lecithin (soy), microcrystalline cellulose, parabens, pharmaceutical ink, povidone, pregelatinized starch, shellac, silicon dioxide, sodium benzoate, sodium lauryl sulfate, stearic acid, sucrose, titanium dioxide.

Directions: Adults and children over 12: Take 1 or 2 tablets every 4 hours as needed. Do not exceed 6 tablets in 24 hours, unless directed by a physician. Children 12 and under should use Children's Advil.

Caution: Keep out of reach of children. This package contains enough medicine to seriously harm a child.

Warning: Do not take Advil if taking acetylsalicylic acid (ASA) or other products containing ibuprofen, or if allergic to ASA, salicylates or anti-inflammatory drugs, or any of the listed ingredients. Consult your physician before taking Advil if you have peptic ulcers, high blood pressure, heart, kidney or liver disease, any other serious disease, or are taking any other drug. Do not take Advil if you are pregnant or nursing a baby, unless directed by a physician. Consult your physician if the pain or fever persists for more than 5 days. Do not exceed the recommended dose unless advised by a physician.

If abdominal pain, heartburn, nausea or vomiting, bloating, diarrhea or constipation, ringing or buzzing in the ears, nervousness, sleeplessness, dizziness, any change in vision, fluid retention, itching, skin rashes or any other side effect or unexplained symptom develops while taking Advil, discontinue use immediately and contact a physician. In case of overdose, call a poison control centre or a doctor at once even if there are no symptoms.
Annie:
more than a year ago
What can I say, Advil works. Instead of me going to a big chain and spending lots of money on stuff I don't need, I can come to well.ca and add the products I do need to my cart and get it shipped for free. That's the best part. I only wish when I was younger my mom had known the difference between tylenol and advil for pain, when I broke my leg on ice when I was a kid, I always wondered why tylenol didn't seem to work. Advil would've worked much better in that situation.
Di:
more than a year ago
Work okay for pain. However the delivery, price and service from Well.ca was excellent. Best part was not having to stand in awe in the pain medicine aisle at the store trying to decide which one to buy and having to read the teeny print on the boxes to see what you are getting. Shopping from the comfort of home and being able to read clearly about a product is a fantastic feature.
Page
1