AOR Maxi-Boz II Boswellia Serrata Extract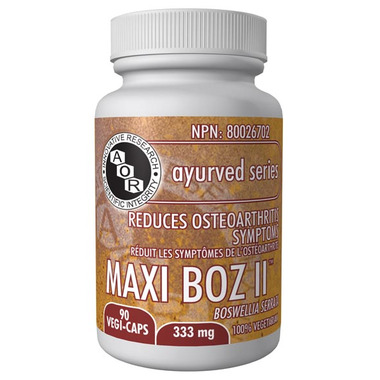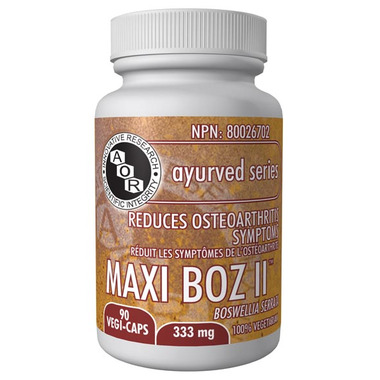 AOR Maxi-Boz II Boswellia Serrata Extract
AOR Maxi-Boz II is standardized
Boswellia serrata
extract (Frankincense), a botanical with a long historical usage in traditional Ayurvedic medicine for support in inflammatory conditions. Boswellic acids are the key triterpene phytonutrients which are responsible for Boswellia's ability to help relieve pain and swelling associated with osteoarthritis of the knee.
Features:
A herb with remarkable anti-inflammatory properties
Supports healthy joint function
Helps relieve pain
Provides a standardized extract backed by clinical research
Adult Dosage:
Take 1 capsule three times a day with food, or as directed by a qualified health care practitioner.
Supplement Facts:
Serving Size: 1 Capsule Amount Per Serving
Boswellia serrata (40% boswellic acids) 333 mg
Non-medicinal ingredients:
potato starch, microcrystalline cellulose. Capsule: hypromellose, water.
Note:
Natural herbal extracts will vary in color from one crop to another.
AOR Guarantees:
that no ingredients not listed on the label have been added to the product. Contains no wheat, gluten, corn, nuts, dairy, soy, eggs, fish, shellfish, or any animal byproduct.



Karen:
more than a year ago
I have a job on my feet walking all day, I have been using this product for just over a year now, and find my knees are way better. They feel stronger and flexible. I am going to continue using this product. I am not interested in using anything but natural products to help with joints. I love this stuff.
Page
1