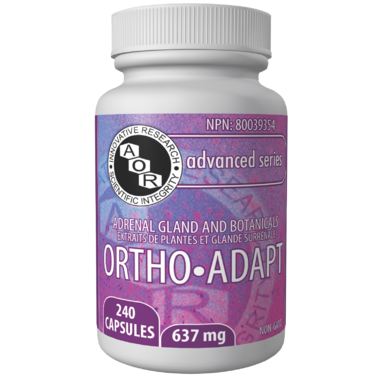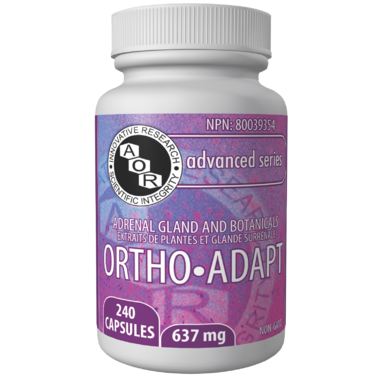 Help Your Body Cope With Stress
Mobilizes internal energy stores
Reduces the impact of stressful conditions
Activates whole-body defenses
Prevents the body from overreacting to a stressor
Directions:

Take 2-4 capsules daily after a meal, or as directed by a qualified health care practitioner.
Ingredients:
Porcine Adrenal Gland Cortex 500 mg, Vitamin C 500 mg,Pantothenic acid (pantethine, calcium D-pantothenate)200 mg, Licorice extract (Glycyrrhiza glabra, 25% glyzyrrhizin)800 mg, Siberian Ginseng extract (Eleutherococcus senticosus 10:1)200 mg, Rhodiola rosea extract (3% rosavin, 1% salidroside)150 mg, Ashwagandha (Withania somnifera 10:1)200 mg
Non-medicinal ingredients: microcrystalline cellulose, sodium stearyl fumarate, silicon dioxide, cassava dextrin. Capsule: hypromellose.
Caution:
Consult a health care practitioner prior to use if you are taking antidepressant medications, hormone replacement therapy (HRT) or birth control pills, if you have any type of acute infection, liver disorder or if you are pregnant or breastfeeding. Consult a health care practitioner if symptoms persist or worsen, or for use beyond 1 month. Headaches, mild gastrointestinal disturbances (such as nausea), heart palpitations, or hyperactivity/insomnia may occur. Consuming ashwagandha with alcohol, other drugs or natural health products with sedative properties is not recommended. Do not use if you are taking thiazide diuretics, cardiac glycosides, corticosteroids, stimulant laxatives or other medications which may aggravate electrolyte imbalance, or if you have hypokalemia, high blood pressure, a kidney or cardiovascular disorder or bipolar spectrum disorder.
Gluten Free, non-GMO, Animal, Contains no wheat, gluten, corn, nuts, peanuts, sesame seeds, sulphites, mustard, soy, dairy, eggs, fish or shellfish.