Aveeno
Aveeno Active Naturals Skin Relief Shave Gel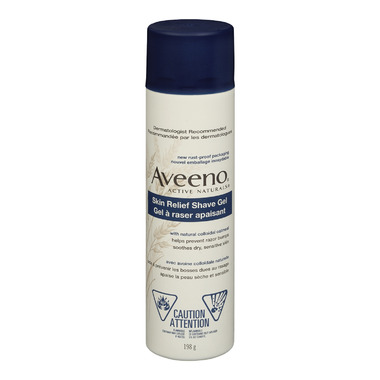 Aveeno
Aveeno Active Naturals Skin Relief Shave Gel
198 g
Aveeno Active Naturals Skin Relief Shave Gel
is rated out of
5
by
16
.
---
Description
Helps prevent razor bumps.

This rich, lubricating gel is uniquely formulated with no added fragrance, so it's ideal for sensitive or irritated skin and skin that's prone to razor bumps. Its therapeutic formula provides a close, smooth shave with less irritation and with protection against razor burn, nicks and cuts. It contains ACTIVE NATURALS® Colloidal Oatmeal to help soothe skin, while a special blend of moisturizing lubricants helps to moisturize skin and reduce dryness.

Ingredients:
ACTIVE NATURALS® COLLOIDAL OATMEAL
Clinically shown to help moisturize and relieve dry skin.
ACTIVE NATURALS® Colloidal Oatmeal is the #1 ingredient most trusted and recommended by dermatologists. As a skin protectant active ingredient, oatmeal can help restore skin's normal pH and aid in the maintenance of skin's moisture barrier to prevent and protect dry skin.
Shipping & Returns
Rated

5

out of

5
by
Anonymous
from
The best!!
This is seriously the only shaving cream I can use on my sensitive skin. I've been using it for quite some time now but recently I haven't been able to find it anywhere. I ran out of my last one a few weeks ago and had to use some other brand at the store, and my legs are so itchy and dry, I can't take out. I came to write this review in hopes that Aveeno has not discontinued this product. I can't do without it. I don't even want to shave again until I can somehow miraculously find one of these somewhere!! This shave cream is the best one I've ever used, gives me the closest shave and never dries my skin out or leaves me itchy. I hope I see it in my local stores again very soon!!
Date published: 2018-01-21
Rated

1

out of

5
by
J
from
Best shave gel ever (why one star?)
I only gave this 1 star so that maybe Aveeno would pay attention. This is the best shave gel I've ever used. I get the best shave, no fragrance (yet it has an inoffensive neutral scent) and it is great for sensitive skin. The price is fine given the quality. BUT it's sold out everywhere and, like another reviewer posted, I hope it is not discontinued! If you read one review online upset about a discontinued product, you can bet there's 1000 more who feel the same way. Clearly it's under marketed. There are countless reviews online about someone (men and women) who never knew this product existed yet were blown away by how good it is (like myself). I've tried the other Aveeno shave gel (light blue) and it's not at all as good. Comon Aveeno, keep up the good work and get this product back out there!
Date published: 2018-01-21
Rated

5

out of

5
by
randomreviewer2015
from
far superior to most of it's competitors (if not all)
been using this product for about a year and a half and i trust it. I hate fragrances in any of my skin products and since this one is fragrance free I decided to try it and haven't stopped using it since. even after shaving my skin still feels soft and even looks supple! i doubt the formula for this product is too complicated and i bet that's part of why this stuff is so good, i hope Aveeno never changes the formula so i can use it for many years to come. stop using the scented gels the main razor companies sell alongside their razors and try this stuff, your skin will like it.
Date published: 2015-10-27
Rated

5

out of

5
by
CJ
from
best shaving product I've used
I shave both my face and head every day. For the past 13+ years I have been using a shaving oil which seemed fine but ultimately ruined my electric wet/dry shavers. Having recently purchased another electric razor I looked for an alternative to the shaving oil I had used all these years. An Independent review had recommended the Aveeno Skin Relief Shave Gel. While it was more expensive than my oil I gave it a try. Honestly I have not had a closer, more comfortable shave in my life. I actually look forward to shaving and marvel at how smooth my skin feels afterward. Plus, it doesn't seem to gunk up my electric shaver. I just hope its a product that will be around a long time.
Date published: 2018-01-06
Rated

5

out of

5
by
Brian
from
Fantastic Product
I bought the Shave Gel for the first time about a year ago. I am now on my 5th can and the gel is amazing. I no longer have cracked or burning skin around my nose and upper lip. I shave 7 days a week and I have finally found the greatest relief on the shelf. Highly recommended.
Date published: 2019-12-13
Rated

5

out of

5
by
Golf1
from
Excellent product, but not available now
This is the best shaving gel I've used, but it's not now available in Surrey, B.C. I want to buy again but it's not available in any store in Surrey, B.C. Great pity.
Date published: 2017-11-24
Rated

5

out of

5
by
Nairam1
from
Excellent product
I am using this shavin cream for many years. I used to get razor burns and since my first application, no more. I recommend this highly
Date published: 2022-04-07
Rated

5

out of

5
by
Steve52
from
Smooth
Super smooth, comfy feel to my face. Definitely a great shave!
Date published: 2021-04-29