Baby Foot Deep Skin Exfoliation for Soft & Smooth Feet
Baby Foot Deep Skin Exfoliation for Soft and Smooth Feet
is rated out of
5
by
22
.
Baby Foot is designed to remove the unsightly, dead skin cells on your feet that build up over time and can contribute to numerous problems associated with the soles of your feet. Dead skin cells accumulate due to pressure and friction from ordinary activities such as standing, exercising, and wearing shoes. In many cases, feet become cracked and painful from the accumulation of dead skin.
In the past, frequent use of foot files and razors were used to "remove" the dead skin on your feet. However, this was a temporary fix! There's no more filing with the use of this Baby Foot product.
Baby Foot is an unparalleled, total foot care package that provides you with the opportunity to care for and maintain your feet at home.
The principal ingredient of Baby Foot is fruit acid which is very gentle, when compared with other acids. The fruit acid penetrates into the layers of dead skin cells and breaks down the desmosomes which hold the layers together. By this process, skin is undamaged but peels easily away from the fresh layer beneath. After peeling, your feet are reborn just like a baby's foot, giving you healthy, beautiful feet.
Baby Foot contains 17 kinds of natural extracts which have a high moisturizing power and astringency, thus the sole becomes smooth after peeling. Baby Foot not only peels the dead skin cells from your feet, it also maintains the grain of the skin and adds moisture to the skin.
How to Use: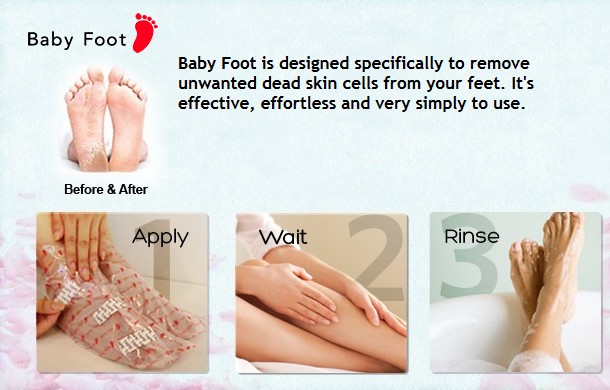 Baby Foot pack contains a sock for each foot, plus the Baby Foot solution. Suitable for women sizes 4 - 12 and men sizes 4-13.
Dead skin cells will start to peel between 3 - 7 days after your initial application.
Do not forcebly remove the dead skin cells when peeling begins. It will exfolicate gently and naturally.
In some instances the skin may become dry until the peeling begins. Should this occur, moisturize lightly and sparingly with an oil-free beauty care product.

Peeling time may vary from person to person and can take up to 2 weeks to complete.
If you feel that a second application is needed, then wait 2 weeks after the 1st treatment and reapply.
Ingredients: aqua(water), alcohol, isopropyl alcohol, latic acid, glycolic acid, arginne, parfum, butylene glycol, peg-60 hydrogented castor oil, glucose, o-cymen-5-ol, citric acid, malic acid, citrus aurantium dulcis (orange) peel oil, citrus grandis (grapefruit) peel oil, dipotassium glycyrrhizate, cymbopogon schoenanthus oil, nasturtium officinale extract, arctium lappa root extract, saponaria officinalis leaf extract, hedera helix (ivy) extract, salvia officinalis (sage) leaf extract, citrus limon fruit extract, clematis vitalba leaf extract, spiraea ulmaria extract, equisetum arvense extract, fucus vesiculosus extract, chamomilla recutita (matricaria) flower extract, camellia sinensis leaf extract, houttuynia cordata extract, phenoxyethanol, hydroxyethylcllulose, salicylic acid, sodium nitrate, glyoxal, disodium phosphate, linalool, limonene

Similar Nail Polish & Nailcare
Rated

5

out of

5
by
Mandy
from
Works like a charm ... a gross charm!
I have religiously used this product for over 5 years now. My feet don't get bad anymore but I still like to use it once in the spring and once in the fall for maintenance. I don't get pedicures at the spa often (maybe once in a few years). I give myself regular pedicures at home (mostly just doing my toenails) and have done so since high school. Whenever I do go to the spa for a pedicure, it's more of a social/bonding experience with my sis in law when she visits and while the ladies work vigorously on my sis in laws feet, they are lost with what to do with mine. My feet are legit baby soft. Nothing to grate off with the cheese grater thing. They've even complimented my feet and then I tell them about my secret (baby foot). The instructions are easy to follow. I have tried it after soaking my feet or even after a shower. Works best then. I dry my feet off and put them in the plastic socks. I put thin regular socks and those sock slippers over it so that I don't slip while walking on the floor. Leave it on for an hour. Rinse my feet off with soap and water and then wait ... patiently wait. In order for it to properly work, do not moisturize your feet. It will end up being a huge waste! My feet start to peel anywhere from day 5 to day 7 and continue to peel for a week. I made the mistake of pulling at the skin when I was just a newbie and that was a huge mistake, I ended up ripping some skin. So please let it peel on it's own. Once all the skin has peeled off (usually around days 10 to 14) I do a very gentle exfoliation on the tops and around the ankles, just in case any little bits are left and then moisturize. You're all set then! I know it's pretty gross but I love it! Totally worth it. Your family members might be grossed out by it so maybe just slip some socks on around them! Please give it a proper chance. I know you'll love it and be a convert too. I always look forward to using it and can't wait to use it soon. Just waiting for it to come back in stock!
Date published: 2021-04-20
Rated

4

out of

5
by
Tanya
from
Finally tested this !
My feet were in good shape, aside from dryness on the heal, but no cracks or corns. It took 3-4 days to start peeling and although it says not to pull on the peeling parts, i did...just like peeling from a sunburn. Every area peeled slowly and my feet were ok. If you don't have bad feet to start with, it's not really worth it.
Date published: 2021-03-05
Rated

2

out of

5
by
S C V
from
No mention of DO NOT USE IF PREGNANT on website
I had heard about Baby Foot and was really excited to use it! I looked through the website and checked to see if there are any restrictions if you're pregnant, it didn't say anything at all. When it arrived, i was very disappointed to find out that the second bullet in the packaging instructions is "do not use if you're pregnant". Sadly, I was unable to use it. it worked great on my sister who got to use it instead!
Date published: 2021-02-21
Rated

5

out of

5
by
TraceyM
from
Awesome product. l followed the instructions. After a week and a few days all l could see was very dry skin (l don't have a lot of callus, mostly very dry, tough in areas and painful cracks). l heard that soaking is helpful so l soaked my feet for three evenings. On the third day l put my hands in the water and gently rubbed all over my feet. When finished the water was FULL of tiny bits of skin and my feet were mostly free of excess -- all except the bit of callus on heels. l went for a pedicure to FINISH the process and was thrilled with the results. l'm 60 years old and have been having pedicures for half my half - not for vanity but for foot health and comfort. After Baby Foot l'd say l had my 30 year old feet. Back to the days before pedicures were required! l showed them to all my friends, LOL After about 8 months l used it again with the same results. Love this product and definitely recommend to everyone who wants smooth feet that don't get snagged on bedsheets and socks. Also, feet that can be shown off! Next time l'll take some before and after photos. BTW l did have a pedicure prior to application as well, so that the enzymes wouldn't be wasted on superficial skin and go right to work on the harder stuff :~))
Date published: 2020-04-24
Rated

5

out of

5
by
Whitney
from
So Disgusting But Satisfying
I wanted to add photos, but I'll spare you because it's so gross. Prior to use I had feet that a foot file or pumice could not help. I did some research how how to get the most bang for my buck and this is what I recommend: soak your feet in warm water for a hour prior to the mask (your feet should be prune-y), then wear the foot mask for at least 1.5 hours. They recommended staying seated for the duration, but you can still walk short distances with the mask on if you put socks over the mask (which is what I did). Do not use moisturizer at all until all the shedding is complete. The first two days it won't seem like anything is happening, but every night make sure to soak your feet until they're prune-y and then give them a gentle massage to activate the mask. Once the shedding starts it's total disgusting madness. You won't feel anything, so make sure to wear socks to bed to contain the shedding. Don't peel the shedding either, just the soak with a gentle massage is all you need. It's been just over one week and my feet are incredible. I highly, highly recommend!
Date published: 2022-03-16
Rated

1

out of

5
by
Dskr
from
Terrible!
I had high hopes with this with all great reviews but it did absolutely nothing but dry my feet out even more. Smells of strong alcohol and very uncomfortable to wear. I wouldn't mind it being uncomfortable if It actually helped my feet in the end. Not worth the money.
Date published: 2020-11-08
Rated

2

out of

5
by
Jess
from
No peeling, disappointed
I used this foot peel 11 days ago and the best I got was some flaking which rubbed off during the numerous foot baths I had. For the first 3 days I just moisturized my feet a bit to keep them hydrated, as the package instructs. I wasn't getting the results I had expected so I googled a bit and discovered it's actually recommended to soak your feet daily throughout this process and moisturize thoroughly. On the 4th day I started with daily foot baths followed by coating my feet in moisturizer. I felt that if I used more moisturizer it might catch up to where the process was supposed to be. No such luck. My feet are a bit softer now, as I mentioned there was some flaking early on. But my heels are still pretty dry and I think moisturizing did a lot of the heavy lifting here. I think I might try it again but I would definitely soak my feet more early on.
Date published: 2020-12-15
Rated

5

out of

5
by
Sampler
from
Works exactly as stated
I have bought this for my husband, several times. He enjoys walking barefoot all over the house, and his feet tend to get a lot of wear. Although skeptical on first use, after about 6 days he had to help the peeling along by rubbing with a filing paddle, it worked extremely well. For my husband, the best part is that his feet have stopped itching as they used too in certain areas. For me, the best part is that feet snuggles feel way better now.
Date published: 2022-04-10