Be Koool
Be Koool Soft Gel Sheets for Kids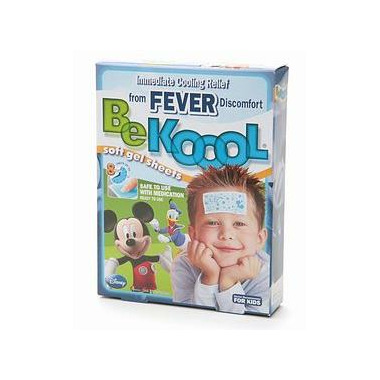 Be Koool
Be Koool Soft Gel Sheets for Kids
4 Count
Be Koool Soft Gel Sheets for Kids
is rated out of
5
by
12
.
---
Description
Immediate Cooling Relief from Fever Discomfort
Lasts up to 8 hours
Ready to use
Heat dispensing cooling gel
Safe to use with medication
Doctor recommended for kids
4 sheets - Each 2" x 4.25"
Features
Be Koool gel sheets provide immediate cooling relief in a convenient disposable product. They need no refrigeration and are portable, ready to use anywhere and anytime your child has fever discomfort.
Gently adheres to children's foreheads.
Be Koool gel sheets are sized to fit children's foreheads and offer just the right amount of cooling to maximize children's comfort.
Cooling effects of each sheet lasts up to 8 hours. Since Be Koool® gels sheets are non-medicated, they are safe to use with medication.
Shipping & Returns
Rated

5

out of

5
by
Manu
from
This product has saved me many, many times. Last winter my daughter caught every virus, and consistently had high fevers. Before finding out about this product, I would spend hours with a cloth with water constantly cooling off her forehead. Her fever would not decrease, even with medication. This product saved me, and would bring it down fast! I didn't have to worry about her sleeping with in and falling off either. Thank goodness we have someone distributing it in Canada. I had to have people traveling to the US bring me back multiple packs at a time!
Date published: 2012-02-14
Rated

5

out of

5
by
Catherine
from
The best thing to help bring down my son's fever as well as mine (I also tried it). Thank God I purchased 3 boxes for my self so I have back up now for more fevers to come in the future (but I actually hope NO fever comes back...). Thanks Well.ca for caring items that are a hard find as well.
Date published: 2016-03-01
Rated

5

out of

5
by
Manu
from
Still use this product for my daughter, and I've used it for myself too. It allows you to be mobile and even just sit up while resting, rather than having a cloth on the forehead. Also great when sleeping, don't have to worry about a thing!
Date published: 2012-04-10
Rated

5

out of

5
by
June
from
My 19 month old isn't a big fan. But my husband and I really love it as it keeps the baby's fever go down. Convenient especially at night when all of you guys are trying to get some rest too.
Date published: 2019-01-08
Rated

5

out of

5
by
Lindsay
from
These work really well at bringing down a fever and stay on through sleeping.
Date published: 2016-03-02
Rated

4

out of

5
by
Eiko
from
It was really helpful when my 10 months baby had fever, but he found it bothered and started removing.Maybe it's too big for small baby like him... Great product!
Date published: 2012-01-29
Rated

5

out of

5
by
BonBon
from
My daughter loves this "big bandage" whenever she has a fever. It helps to keep her forehead cool and stay on throughout the night.
Date published: 2018-02-13
Rated

5

out of

5
by
Michelle
from
Love this product! Easy to use and comfort in knowing that you little ones are getting cooled down
Date published: 2016-01-29