Benzagel
Benzagel Cleansa-Wipes Facial Cleansing Wipes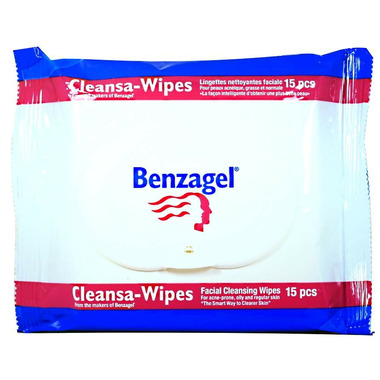 Benzagel
Benzagel Cleansa-Wipes Facial Cleansing Wipes
Description
Benzagel Cleansa-Wipes are ideally suited for day to day use by all skin types to cleanse the skin of pore-clogging impurities, normalize the appearance of oily skin and in preparation of acne treatment. They contain a mild cosmetic formulation including micellar water, enriched with Chamomile and Vitamin E to sooth skin and maintain natural moisture balance. They are made with a special texture to promote exfoliation of dead skin cells, removal of excess oil and sebum for clear and healthy skin.
Features:
Cleansa Wipes normalize the appearance of oily skin types and prepare your skin for acne treatment
They contain a mild formulation of salicylic acid to promote exfoliation of excess oil and dead skin cells
Helps acne-prone skin look clear and healthy
Directions:
As a daily facial cleanser or in preparation for acne treatment. Use in conjunction with 5 Benzagel Wash and Gels that help fight acne pimples and achieve a healthier looking complexion.
Use within 90 days from opening.
Paraben, alcohol and formaldehyde free. Formulated to minimize the risk of allergies. Tested under dermatological and ophthalmoogical control.