Chimes
Chimes Original Ginger Chews Bag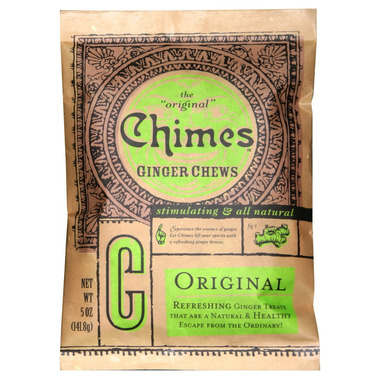 Chimes
Chimes Original Ginger Chews Bag
141.8 g
Chimes Original Ginger Chews Bag
is rated out of
5
by
21
.
---
Description
This is the ideal selection for a true ginger purist. Chimes Original Ginger Chews packs an intense flavour that definitely gets your mouth humming. These ginger chews also boast a smooth, creamy texture that soothes as it energizes. Whether you are a die-hard ginger fan or just enjoy the taste of spicy sweet ginger in your mouth occasionally, you've ever experienced anything like Chimes Original Ginger Chews before. Indulge in a refreshing natural ginger experience that will put a smile on your face.
All Ginger Chews are individually wrapped.
Benefits of Ginger Chews:

Promotes Digestive Health by fighting indigestion
Fights symptoms of colds and flu
Enhances overall health by supporting immune system
Fights symptoms of motion sickness, vertigo, and nausea
Directions: Enjoy Chimes Ginger Chews after eating to promote healthy digestion or unwrap a ginger chew when flying to help ease motion sickness and nausea. If you're feeling a little under the weather, turn to Chimes Ginger Chews to help ease some of your cold and flu symptoms.
About Chimes: Chimes Ginger Chews started out as a local Indonesian treat and has now grown to an international phenomenon. Using the time-honored technique of stone grinding, Chimes is able to extract the purest ginger essence to offer a unique warming sensation. Chimes works hard to maintain their heritage by using the best ingredients, ensuring that the ginger you enjoy today is as authentic as the herbalist's original recipe from almost a century ago!
Highlights

Ingredients
Cane Sugar, Ginger, Tapioca Starch. No Additives or preservatives.
Shipping & Returns
Rated

5

out of

5
by
Erin22
from
The best ginger chew
I am so in love and addicted to these gingery Marcel's of goodness. Great for nausea and also to warm up your body if chilled. I literally need a lifetime supply. I will always have these on hand!! Highly recommend
Date published: 2022-03-24
Rated

5

out of

5
by
Vaness20
from
Life saver!
My husband often gets an upset stomach and taking one of these ginger candies he feels immediate relief. Beyond that, they taste absolutely delicious and are a sweet little treat!
Date published: 2020-04-22
Rated

5

out of

5
by
Lilo247
from
Yummy!
Really good to carry in your bag for nausea or as a treat if you love ginger!
Date published: 2021-05-21
Rated

5

out of

5
by
dexi555
from
Will Definitely Purchase Again!
I love Chimes Original Ginger Chews, but have great difficulty finding them locally, but found them at a great price at Well.ca! Ordered a few packages to last me for awhile (and to take advantage of the free shipping), and received my order within days! Thanks so much!
Date published: 2021-08-30
Rated

5

out of

5
by
Laurel
from
Great to try if you get migraines!
I get occasional migraines with nausea. These ginger chews are great at calming the stomach. They're also very tasty if you like ginger! Well.ca's price and supply of them are competitive with Amazon, and I prefer to support a Canadian company.
Date published: 2021-08-22
Rated

5

out of

5
by
MS
from
Helps my daughter with her motion sickness
Really great to help my daughter for motion sickness in the car. On day-long trips I usually give her Gravel but on trips under an hour I don't want to use medications unless I have to. With these candies she feels great on those rides!
Date published: 2022-05-25
Rated

5

out of

5
by
Michelle
from
I love these Ginger Chews
This literally is my must have item! I could eat the whole bag in one day. They are SO yummy! I had bought them at my local health store and kept the bag. Finally I looked them up online and found them here on Well.ca. Delicious!!
Date published: 2021-02-13
Rated

5

out of

5
by
debo
from
premium ginger product
I purchase these when I want to curb my candy consumption. I can never eat more than 2 of these at a time and when I do, the burst of zesty ginger satisfies my sweet tooth. For me, Chimes ginger chews are a responsible candy fix.
Date published: 2020-04-21