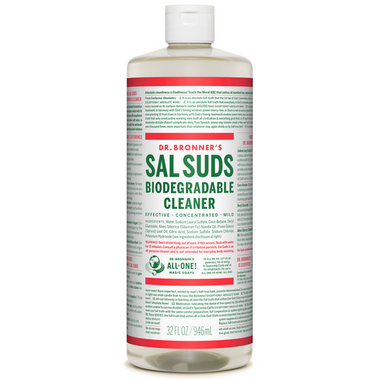 946 mL
Dr. Bronner's Sal Suds Biodegradable Cleaner
is rated out of
5
by
25
.
---
Description
Sal Suds is a balanced formulation of naturally derived surfactants with pure fir and spruce essential oils: it cleans and rinses with exceptional power yet is mild and gentle on the skin. Sal Suds is not soap-based and is formulated especially for all-purpose hard-surface cleaning.

Perfect for general household cleaning: dishes floors laundry etc. Equally effective in hard or soft water rinsing freely hot or cold. Concentrated and self-preserving: no hidden preservatives or ingredients. No synthetic dyes or fragrances: all ingredients fully disclosed and described. Biodegrades rapidly after doing its job. Pure high-quality fir and spruce essential oils: no cheap harsh pine stump oil. No animal testing: Coalition for Consumer Information on Cosmetics certified.

Highlights

Ingredients
Water, Sodium Lauryl Sulfate, Coco-Betaine, Lauryl Glucoside, Fir Needle Oil, Spruce Oil: Sodium Lauryl Sulfate (SLS): This surfactant cuts grease and dirt, generates copious suds, and biodegrades quickly and completely. SLS is made by combining a sulfate group with lauryl alcohol from coconut oil, then attaching sodium. If improperly formulated, SLS can irritate skin, but our superb formula uses coco-betaine and lauryl glucoside to counter this. Coco-Betaine: Mild and easily biodegradable, coco-betaine is formed by combining coconut fatty acids with betaine (a nature-identical synthetic so-named because it was first discovered in sugar beets). This foam-boosting cleansing agent buffers irritation caused by SLS. Lauryl Glucoside: This powerful grease-cutting surfactant is especially mild and quickly biodegradable, and is made by combining glucose from corn with fatty alcohols from coconut and palm kernel oils. Lauryl glucoside not only works with SLS to cut dirt and oily soils with exceptional ease, but also combines with coco-betaine to give Sal Suds smooth mildness. Fir Needle Oil & Spruce Oil: Pure essential oils from fir and spruce give Sal Suds its wonderful aroma. Most other cleansers use synthetic fragrances or cheap harsh pine stump oil.
Shipping & Returns
Rated

5

out of

5
by
JJBTO2
from
Excellent product.
I have absolutley no negatives on this product. My husband and I are very excited to finally have found a TRUE all purpose cleaner that is safe for us and our children. I highly recommend Sal Suds for anyone wanting to go green with all of their cleaners. I received my 32 ounce bottle yesterday, very fast shipping I must add. I immediately mixed a Tbs in a 30 ounce spray bottle with water. Fantastic! I tried a half tsp in a sink of warm water for my dishes, it did a fabulous job. I usually have to use a steel wool pad to polish the inside of my stainless steel pots,but not with Sal suds, Dr Bronners took care of the polishing for me. I cant wait to try it in the laundry on wash day!
Date published: 2021-02-24
Rated

5

out of

5
by
Anna
from
Great soap
I've been using sals suds for laundry for a few months now and this is the second purchase from well.ca. Packaging is nicely done so nothing is leaking upon delivery. Fast delivery.
Date published: 2020-05-04
Rated

5

out of

5
by
Deb
from
Smells fresh
Since I discovered Sal Suds I haven't needed to purchase anything else. It's our preferred cleaner for all the house. A few drops are all that's needed....it's amazing!
Date published: 2020-06-24
Rated

5

out of

5
by
CarolynKA
from
Love this product
I use this for cleaning around the house, from laundry to washing my bird's fruit. I've put it in my carpet cleaner. The bottle lasts a long time.
Date published: 2021-03-06
Rated

4

out of

5
by
Heather
from
Great for cloth diapers
I use Sal suds for washing cloth diapers in the washing machine and it works well. The diapers come out fresh and clean!
Date published: 2020-12-17
Rated

4

out of

5
by
torontogirl87
from
Works good for granite
I use these to clean my granite counters -- just put a drop in a spray bottle with water and mix. Wipe down with a lint free cloth. works great. However I tried on my parquet floors and it left it sticky. Perhaps I used too much, not sure. It's great to have around and I will try it for more stuff soon...washing dishes next!
Date published: 2020-10-30
Rated

5

out of

5
by
Janeybee
from
Best All Round Natural Cleaner
Using for a wide variety of spills, walls, laundry. I am experimenting with natural detergents and cleaners - teen left a load in washer overnight no stink! I am finding clothes clean and fresh - now experimenting with dish washer…great products from an ethical company.
Date published: 2022-07-15
Rated

5

out of

5
by
Nrae00
from
Excellent cleaner
I use this for cleaning things that need a little bit more scrubbing than just with regular soap, such as for blinds, baseboards/windowsills and walls- gets scuff marks off easily. It works as well as MR clean magic eraser, without taking the paint off.
Date published: 2022-09-29