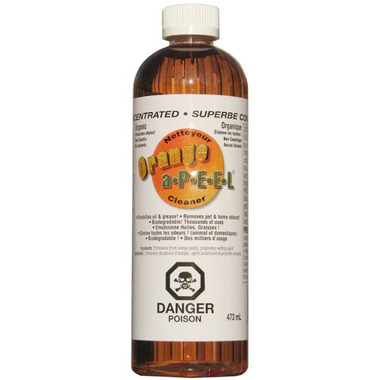 473 mL
Orange a-P-E-E-L Cleaner
is rated out of
5
by
25
.
---
Description
Super concentrated and is a natural organic cleaner, stain remover, deordorizer and degreaser.
Made from high grade d' Limonene produced from the peel and seeds of oranges.
Is extremely versatile, it cleans stains and odors from vehicles to carpets, kitchens to bathrooms, laundry to floors, use it on everything
CAUTION: (check plastic first.)
A fresh, natural fragrance that makes cleaning everything less of a chore!
Safe around pets and is used as an effective animal "Deskunker" by veterinarians and groomers. Must be mixed 60 ml to 4 lt. warm water.
WARNING: do not use other orange named products as a substitute for Orange aPEEL¨, you could hurt your animal.
Highlights

Shipping & Returns
Rated

5

out of

5
by
Lynn
from
This is the go-to for anyone who wants a natural and effective cleaner. It removes the smell in front loaders, by simply adding a drop or two to the bleach compartment. It also helps remove unwanted teenager smells in clothes! I have been using orange cleaners for nearly 30 years, and the orange-a-peel by far is the best smelling. It doesn't have the chemical scent that other orange cleaners do. There are so many places it can be used. It excels at carpet cleaning. Removes nasty cat urine and skunk smell. Cleans up sticky residues like gum and glues. Works great as a paint remover, and so many other things. I recommend it to many people.
Date published: 2014-02-25
Rated

5

out of

5
by
Jo
from
I was THRILLED to find this product on Well.ca as I have used it for over 20 years, and was having trouble sourcing it anymore. It is natural, smells great, wont hurt your hands, removes, stickers, is pet safe ... what more can I say! The best thing - it will handle any cleaning job you have from wiping counters to cleaning the oven depending on the concentrate you use. A little does a lot! I used to own a house cleaning company and with this in my basket, the only other thing I needed was rags! Many customers commented on how much they loved coming home to the orange smell. Try it you will LOVE it!
Date published: 2013-06-28
Rated

5

out of

5
by
Maureen
from
I have used this cleaner for the past few months on various household tasks: glass, bathrooms, showers and soap scum, dirty grout. I have been very happy with the results and the smell is not irritating like some other all purpose cleaners. I absolutely would recommend this to anyone who wants a more environmentally friendly item that really works. I have not found the Mrs. Meyers cleaning products nearly as effective as this one. My only complaint is that the bottle is small, so even though it is concentrated, it doesn't last that long. I hope Well.ca starts stocking the larger container.
Date published: 2013-12-19
Rated

5

out of

5
by
Donn
from
I have to buy more of this stuff. I got some hoping that it would remove stains and things. I had no idea how powerful it is. I just tried carpet spot cleaner on the collar of a white shirt and it would not touch it. Other stuff got my collar a little whiter but would not pass scrutiny of my wife. I used some OrangeA Peel cencentrate and some water and the stained collar was finally clean. This was after multiple cleanings and dryings. I also had some paint dried on my fingers that would not budge. Orange A Peel took that off almost instantly. I was a little afraid to do that because it does say poison on the container. My fingers haven't fallen off yet so I guess I'm safe. Amazing. I don't know where I can buy it locally any more so may have to order it by mail. Darn!
Date published: 2015-12-15
Rated

5

out of

5
by
Kathleen
from
I've been using this product for 15vyears, and though the price has increased by 30%, it's a must. Nothing else-and I have tried all I know of- both deep cleans and leaves a fresh, subtle un-perfumey scent. I even buy it for my adult kids as gifts and they welcome it. So, invest in a bottle, and I predict you will be delighted.
Date published: 2016-05-03
Rated

5

out of

5
by
Marie
from
This product is great for so many things, depending on the strength you make it or using it at full strength. I am so glad that Well.ca carries this product, as this site is so easy to work with and has the greatest customer service.
Date published: 2013-09-25
Rated

5

out of

5
by
Janice
from
Excellent product! I noticed they use this in our local hospital. The janitor said it's because it doesn't affect people with asthma, and it cleans really, really well. He was right! It's an amazing product!
Date published: 2019-10-01
Rated

5

out of

5
by
Denise
from
I love this stuff. I've used a similar product for cleaning 10+ years and it was pulled from the shelves due to changes in packaging requirements. Orange A Peel works the same (same d limonene) - great smell, cleans hard-to-clean things better than most commercial products, including hard water buildup, and is also anti-fungal so good for bathrooms.Plus it's enviro friendly. Great great product!! Very happy to find it at Well.ca
Date published: 2012-02-07