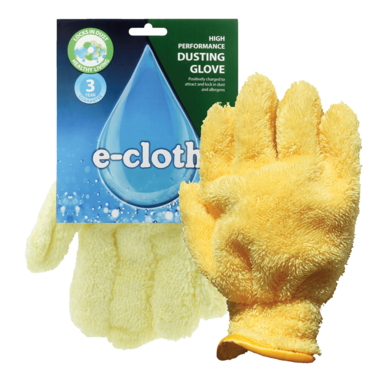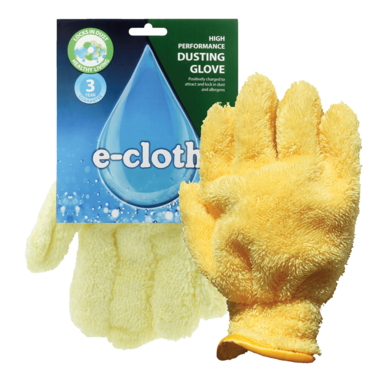 The e-cloth High Performance Dusting Glove has extra long, soft fibres that attract and hold dust, pollen, dirt, grease and oil from crevices and hard-to-reach spaces. Holds dust until the glove is washed.

Works brilliantly on window blinds, louvered windows, banisters & railings, chair legs, musical instruments, etc. Use dry for dusting or use damp to clean heavy dirt and grime. No chemicals needed- just water! Guaranteed for 300 machine washes or 3 years.
Features:
Has a natural positive electrostatic charge that attracts and removes dust & allergens, dirt & grime locking them into the super soft fluffy fibres

It does not just push dirt around like other dusting cloths
Glove can reach into nooks and crannies and other hard to reach spaces

Holds dirt and grime in the glove until it is rinsed under a hot tap or it is machine washed

Machine washable. Guaranteed for 300 machine washes

Fits most hands. Use on left or right hand

e-cloths are guaranteed for 3 years

Directions: Insert hand and begin wiping. Don't forget to wash between uses.

80% Polyester/ 20% Polyamide. A hot rinse under a tap is often enough for day to day use. Recommend machine wash once a week and tumble or hang dry. Do not use bleach or fabric softener.