Earth Mama Organics Baby Natural Non-Scents Lotion
Moisturizing and Soothing Unscented Calendula
240 mL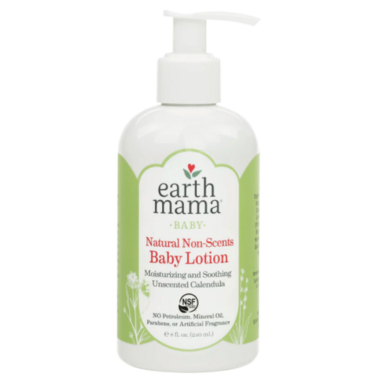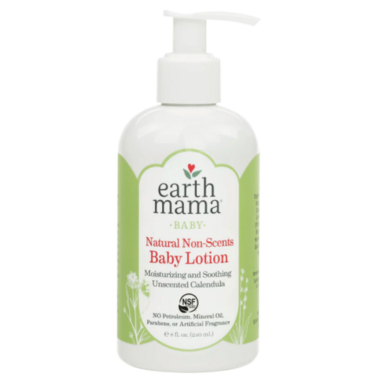 Earth Mama Organics Baby Natural Non-Scents Lotion
Moisturizing and Soothing Unscented Calendula
240 mL
Earth Mama Organics Baby Natural Non-Scents Lotion is gentle, unscented, and formulated with extra care, because what goes on your baby goes in your baby, through their mouths and skin! Natural Non-Scents Baby Lotion is blended with scent-free organic herbal ingredients to moisturize and protect sensitive, delicate skin. For babies of all ages - top to bottom, cheeks to cheeks. With organic botanicals like Calendula and Rooibos, for dry, itchy, red skin and baby bottoms.
Natural Non-Scents Baby Lotion is rated 0 for toxins on EWG's Skin Deep Cosmetics Database. Non-toxic, never any worrisome ingredients, and no artificial fragrance, dyes, petroleum products, mineral oil, Vitamin E, phthalates or parabens. A companion to gentle Natural Non-Scents Body Wash & Shampoo castile soap!!

Features:
Gentle unscented baby lotion with organic Rooibos and Calendula botanicals plus pure plant oils and butters to moisturize even delicate newborn skin
Herbal skin care perfect for sensitive babies of all ages
Toxin-free, made without synthetic fragrance, phthalates or parabens and no petroleum products, mineral oil, Vitamin E or dyes
Certified by Oregon Tilth to the NSF/ANSI 305 Standard for Personal Care Products Containing Organic Ingredients
Formulated by a Nurse and Herbalist
Vegan and gluten-free
Please Note: Earth Mama Angel Baby has gone through packaging and name change. You may receive the original packaging as shown below.