Ecoideas
Ecoideas Organic Black Chia Seeds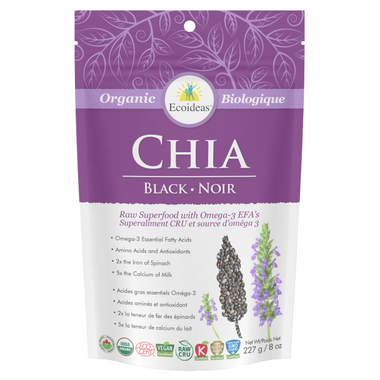 Ecoideas
Ecoideas Organic Black Chia Seeds
Description
Used as an energy food for centuries, Chia has been rediscovered today as a "functional food" ( a preventative food that promotes health). Chia Seeds are considered to be one of nature's richest vegetarian source of omega-3 EFAs and fibre. They are an antioxidant and contain 18 amino acids, two times more iron than spinach, five times more calcium than milk.
Colour is the only significant difference between white and black Chia.

Use:
A good daily intake of Ecoideas Organic Chia is 2 to 4 tablespoons. Enjoy Chia on salads, cereal, and yogurt. Mix them into your smoothie or incorporate into your jam and bread recipes.

Features:

RAW
GMO/Gluten Guard Certified
Certified Organic
Kosher
Vegan
Source of Omega-3&6 Polyunsaturates
Very high source of Fibre
Source of Calcium and Iron
High in Magnesium
Ingredients: Organic Raw Chia Seeds.
Highlights

Shipping & Returns