Emergen-C Energy Plus Mango-Peach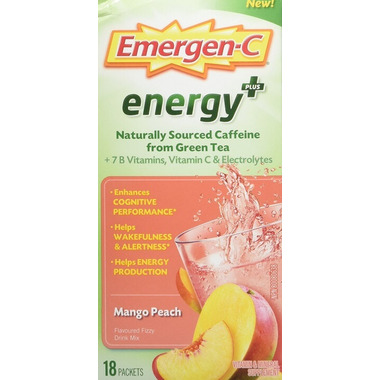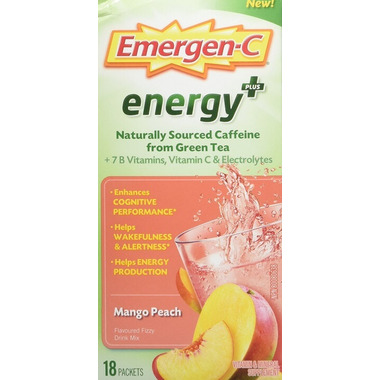 Emergen-C Energy Plus Mango-Peach
Emergen-C Energy Plus Mango Peach includes naturally sourced caffeine from green tea to enhance cognitive performance and to temporarily promote wakefulness and alertness. It also helps to temporarily to relieve fatigue, to promote endurance and to enhance motor performance. Plus it helps support your immune function. Packed with 250 mg of Vitamin C, 7 B Vitamins, and other nutrients, and tasty natural flavours, this is the perfect pick-me-up to your day!
Features:
50 mg of naturally sourced caffeine from green tea per packet
7 B Vitamins and 250 mg of Vitamin C
Vitamin drink mix with natural fruit flavours
Enhances cognitive function
Temporarily promotes alertness and wakefulness
Helps maintain immune function
Source of electrolytes
Dosage: Adults: Take 1 packet 2 times a day or 2 packets at once. For maximum energy, take 2 packets at one time. For moderate energy, take 1 packet as needed twice a day. Do not exceed 2 packets per day. Take with food a few hours before or after taking other medications or natural health products. Place contents of packet in glass, add 120-180 ml (4-6 oz) of water and stir.
Ingredients: Fructose, Citric Acid, Maltodextrin. Contains <2% of: Acacia, Malic Acid, Mango Fruit Powder (color and flavor), Natural Flavors, Peach Juice Concentrate (color and flavor), Rebaudioside A (extracted and purified from natural stevia leaf), Silicon Dioxide, Tartaric Acid, Tocopherols (to preserve freshness).