Emergen-C
Emergen-C Super Energy Booster Instant Drink Mix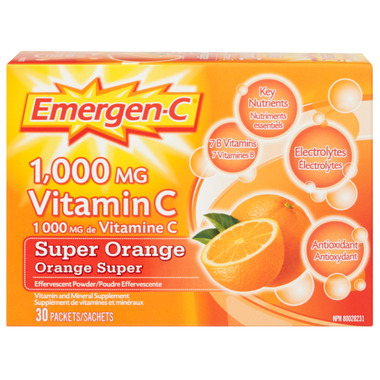 Emergen-C
Emergen-C Super Energy Booster Instant Drink Mix
Super Orange
30 Count
Emergen-C Super Energy Booster Instant Drink Mix
is rated out of
5
by
14
.
---
Description
It couldn't just be orange. It had to be orange with super powers, like the ability to leap over the tree it grew on. That's how it got to be an Emergen-C flavour.

Original Formula. The powerful blend of vitamin C, 24 nutrients, 7 B vitamins, antioxidants and electrolytes boosts your immunity, increases your metabolic function, and ignites your energy level to help you really feel the good.

Supplement Facts (per 1 packet):
Calories - 25
Total Carbohydrate - 6 g
Sugars - 5 g
Vitamin C - 1000 mg
Thiamin - 0.38 mg
Riboflavin - 0.43 mg
Niacin - 5 mg
Vitamin B6 - 10 mg
Folic Acid - 12.5 mcg
Vitamin B12 - 25 mcg
Pantothenic Acid - 2.5 mg
Calcium - 50 mg
Phosphorus - 38 mg
Magnesium - 60 mg
Zinc - 2 mg
Manganese - 0.5 mg
Chromium - 10 mcg
Sodium - 60 mg
Potassium - 200 mg
Alpha Lipoic Acid - 1 mg
Quercetin - 1 mg

Other Ingredients: fructose, citric acid, malic acid, orange juice powder, natural flavours, tapioca maltodextrin, silica, beta carotene, annatto colour, glycine, aspartic acid, tartaric acid, cysteine hydrochloride.
Highlights

Shipping & Returns
Unfortunately, due to the nature of this item, we cannot accept any returns.
We are only able to ship this item to Canadian customers.
Click here for more information
Rated

3

out of

5
by
Tks
from
I bought this product to help lift my vitamin intake, and help boost my immunity however I cannot stand the taste of this product. It's great for vitamins, but it's like a sparkling water with false orange flavouring. It isn't enjoyable in my opinion. When you add it to water, it's an evervesence, it turns regular water into sparkly water, and adds a fizziness. The water then tastes like really watered down orange juice with a strange aftertaste. I tried 5 packets for a week, one a day, and i didn't find it helped increase my energy levels at all, nor did it make me feel any better after consuming it. I may try a different flavour next time, but as for this orange product I will not buy again.
Date published: 2018-01-06
Rated

5

out of

5
by
Valerie
from
You guys may need to check your pricing on this one, its $11 at Walmart, too expensive here. Love the product BUT not the Price. Giving it a 5 rating cos of the product.
Date published: 2016-03-18
Rated

5

out of

5
by
Pam
from
I've always loved this product...my only issue with it (although the packets are super handy), it's more waste...too bad it doesn't come in a big container that you can recycle.
Date published: 2012-04-10
Rated

5

out of

5
by
Dani
from
I have Orthostatic Intolerance so I need to keep my blood volume up and the key way to doing that is by hydrating properly and keeping my electrolytes up. I find Emergen-C about the best electrolyte drink out there, plus I'm getting my Vitamin C in a yummy drink. I love it and I just stocked up when We'll just had a sale. I'll be a user for life :)
Date published: 2013-08-07
Rated

4

out of

5
by
Jennifer
from
Kind of like drinking the chewable vitamin c tablets - tastes pretty good, a little "medicin-y" tasting but overall not bad. My hubby was feeling stuffy and sneezy and started drinking this once a day and didn't get sick.
Date published: 2009-11-04
Rated

4

out of

5
by
Nicole
from
One of the best elecrolyte powders I have found. Mild taste with few calories and reasonably priced. I stated to use this product for low blood pressure and the results have been amazing!
Date published: 2012-05-14
Rated

5

out of

5
by
John
from
I don't know if anyone remembers Rodoxin, but this is pretty much like that. It's got a nice fizz and a good flavor, and I plan on keeping myself stocked up on it.
Date published: 2013-12-20
Rated

5

out of

5
by
corrin
from
Love this product, I work with germy kids and have a lowered immunity. I feel healthier now that i started ising this product. Taste good too!
Date published: 2015-11-26