Equal Exchange Breakfast Blend Organic Coffee - Beans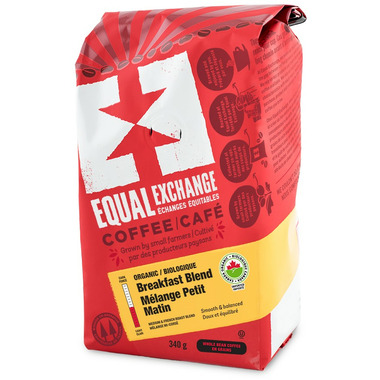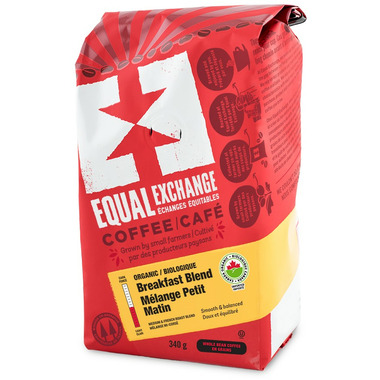 Equal Exchange Breakfast Blend Organic Coffee - Beans
This classic blend is sweet and balanced with a creamy mouthfeel and hints of chocolate brownie, roasted nut and caramel.
Tasting Notes
: Creamy & Balanced; vanilla, milk chocolate, citrus

Please note
: tasting notes and descriptions refer to the natural flavors and nuances of the coffee. There is no added flavoring.
ROAST
: This is a medium light roast. Medium & French roast blend
La Siembra is proud to provide Equal Exchange's renowned organic coffee to Canadian consumers.
As a Canadian worker-owned cooperative, La Siembra is among those that have represented the heart of fair trade and its goal of building markets for small farmers from the beginning. But corporations and large plantations now threaten the integrity of this movement.
Features
:
Sustainably grown by small-scale farmer co-operatives in Latin America, Africa and Asia
One-way valve ensures freshness
Re-sealable tin tie for added convenience
Certified Organic & Kosher
More than fair trade
Ingredients
: Organic Arabica Coffee