Flora
Flora Apple Cider Vinegar Turmeric And Cinnamon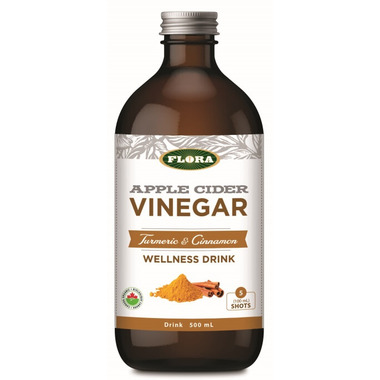 Flora
Flora Apple Cider Vinegar Turmeric And Cinnamon
Description
Flora's Apple Cider Vinegar Wellness Drinks are thoughtfully brewed in small batches using freshly ground organic herbs blended with apple cider vinegar. The complex flavour of these wellness drinks is rounded out by a herbal tea blend which utilizes cleansing herbs.
Enjoy the crisp tang of apple cider vinegar paired with an enticing combination of cinnamon and turmeric. The complex, earthy tones of cinnamon balance with the spice of turmeric, creating a robust wellness drink that will both refresh you and support healthy digestion.
Dosage:
Enjoy 100 mL serving before or with meals.
Features:
Certified Organic
Gluten Free
Non GMO
Kosher
Caffeine Free
Vegan
Ingredients:
Herbal preparation (water, burdock*, sheep sorrel*, turmeric*, slippery elm*, red clover *, blessed thistle*, rhubarb*, kelp*), apple cider vinegar*, sugars ( concentrated apple juice *), cinnamon*, clove*, black pepper*
*Organic
Highlights

Shipping & Returns