Fountain The Beauty Molecule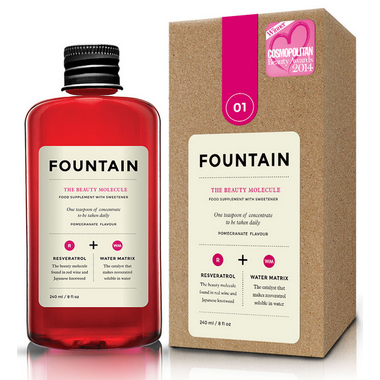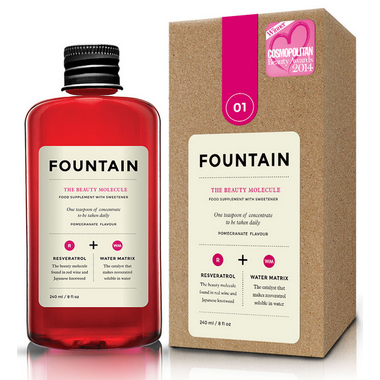 Fountain The Beauty Molecule
The Beauty Molecule is a concentrated beauty supplement with Resveratrol and Hyaluronic Acid to promote health, youth and longevity.
Features:
RESVERATROL: This formula contains a very high concentration (40mg/teaspoon) of Resveratrol, a natural phenol found in the skin of red grapes and in Japanese knotweed. Studies have shown that Resveratrol offers the positive effects of calorie restriction to promote a healthier lifestyle.
26,000 RED GRAPES: Each teaspoon of Fountain – The Beauty Molecule contains as much Resveratrol as 26,000 red grapes.
MOST BIOAVAILABLE, WATER-SOLUBLE: Contains a first-ever water-soluble Resveratrol in a proprietary water matrix delivery system for maximum absorption in a base of vegan-friendly nutritional Hyaluronic Acid, nature's youth matrix.
VEGAN HYALURONIC ACID: This formula is a vegan-friendly source of pure food-grade Hyaluronic Acid.
SAFE: This formula is free of artificial colours and flavours and is suitable for both adult men and women.
How to Use:
Take one teaspoon (5ml) per day either directly or mixed with your favourite juice or beverage. Do not mix with dairy products. This product is a supplement to and not a substitute for topical skin care products.
Ingredients:
Water, sweetener xylitol, resveratrol complex (hydroxypropyl-beta-cyclodextrin, polygonum cuspidatum extract, beta-cyclodextrin), natural flavour, colour black carrot, preservative citric acid, thickener xanthan gum, preservative potassium sorbate, hyaluronic acid.
Warning:
Do not exceed 4 teaspoons per day. Food supplements should not be used as a substitute for a balanced diet and a healthy lifestyle. Consult with a doctor if you're pregnant, breastfeeding or are taking medication. Keep out of reach of children. Keep away from sunlight and heat. Do not freeze. Consume within 3 months once opened.
Stephanie:
a few months ago
Honestly, this tastes/smells very bad. I expected it to be "pomegranate flavoured" as the packaging and description indicate - but it has a very medicinal taste. I have noticed a difference in the overall tone and texture of my skin, which is why I have kept up with it :) I usually mix it into a big glass of orange juice so that the taste is less potent (you still taste the product, but mostly the juice). Like I said, I'm already noticing a difference - so despite the taste, I would be open to trying other products from this brand.
Jacalyn:
more than a year ago
I have been using these products for some time but recently started buying them from Well.ca and I'm glad they stock them! They are by far the most disgusting thing you can ingest but I do see a difference in my skin when taking this supplement. It's easy to incorporate into your daily routine, but the taste is horrid and takes some getting used to. Overall, the results are worth the poor taste but you have to have a pretty strong gag reflex!
Page
1