Fountain The Beauty Molecule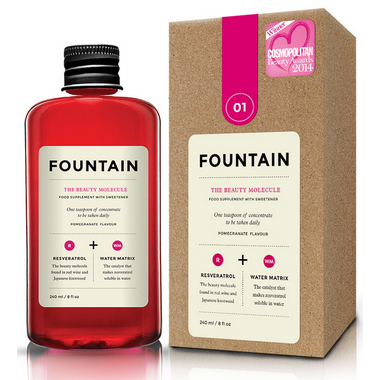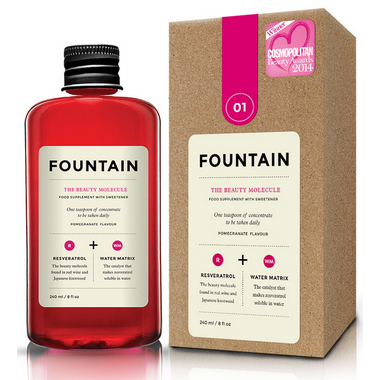 Fountain The Beauty Molecule
- We're sorry, this product is no longer available!
- Shop for other products in: Other Supplements

The Beauty Molecule is a concentrated beauty supplement with Resveratrol and Hyaluronic Acid to promote health, youth and longevity.
Features:
RESVERATROL: This formula contains a very high concentration (40mg/teaspoon) of Resveratrol, a natural phenol found in the skin of red grapes and in Japanese knotweed. Studies have shown that Resveratrol offers the positive effects of calorie restriction to promote a healthier lifestyle.
26,000 RED GRAPES: Each teaspoon of Fountain – The Beauty Molecule contains as much Resveratrol as 26,000 red grapes.
MOST BIOAVAILABLE, WATER-SOLUBLE: Contains a first-ever water-soluble Resveratrol in a proprietary water matrix delivery system for maximum absorption in a base of vegan-friendly nutritional Hyaluronic Acid, nature's youth matrix.
VEGAN HYALURONIC ACID: This formula is a vegan-friendly source of pure food-grade Hyaluronic Acid.
SAFE: This formula is free of artificial colours and flavours and is suitable for both adult men and women.
How to Use:
Take one teaspoon (5ml) per day either directly or mixed with your favourite juice or beverage. Do not mix with dairy products. This product is a supplement to and not a substitute for topical skin care products.
Ingredients:
Water, sweetener xylitol, resveratrol complex (hydroxypropyl-beta-cyclodextrin, polygonum cuspidatum extract, beta-cyclodextrin), natural flavour, colour black carrot, preservative citric acid, thickener xanthan gum, preservative potassium sorbate, hyaluronic acid.
Warning:
Do not exceed 4 teaspoons per day. Food supplements should not be used as a substitute for a balanced diet and a healthy lifestyle. Consult with a doctor if you're pregnant, breastfeeding or are taking medication. Keep out of reach of children. Keep away from sunlight and heat. Do not freeze. Consume within 3 months once opened.